How MaxOptra and dynamic route optimisation supports the entire building and construction chain. From machinery to furnishings!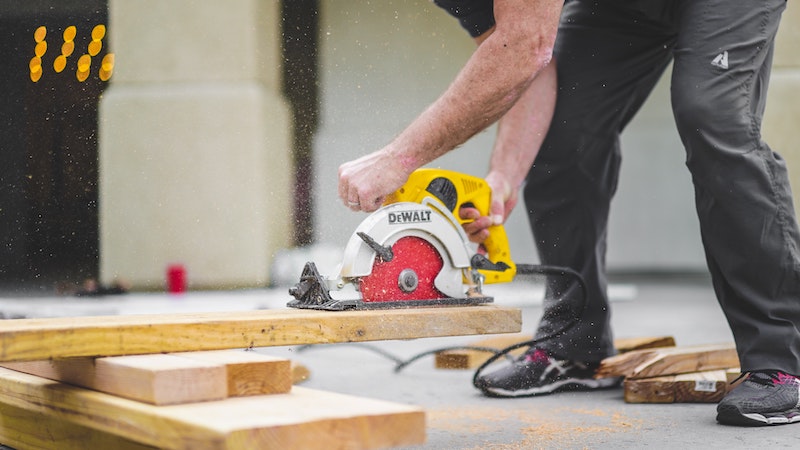 We've previously talked about how the building and construction industry is seeing a surge in activity.
And at MaxOptra, we've very much been at the centre of it.
We have been supporting businesses involved in every stage of the building chain. From scaffolders and timber suppliers. To furnishings and bathroom fitters.
Each business has its own challenge. However, common themes include optimising routes, streamlining businesses processes, and keeping customers happy.
Read on to learn how we have helped businesses in a wide range of building and construction industries to do all of the above.
Tools and machinery
Tools and machinery is where everything starts for the building and construction industry. If they can't get the right tools. On time. Then work will immediately be delayed.
For many tools and machinery suppliers, this means that keeping their customers in the loop and reassured is essential.
For example, we helped
Axminster Tools & Machinery
to streamline their technology and boost their customer service.
"With orders being received from any one of our 215,000 customers, our logistics and transport operation is fast moving, complex and challenging," commented Richard Payne, Transport Manager. "In addition to fulfilling delivery of our own orders we also offer, through our logistics arm, a commercial delivery service using our in house fleet and carefully selected carrier partners. Technology is fundamental to our success."
The decision to work with us was taken to primarily boost customer service. "MaxOptra gave us an easy to implement, easy to use solution that addressed our needs from the moment an order is placed to the point when the truck pulls away having successfully completed a delivery," continued Payne.
"MaxOptra integrates with existing software and working practices. It allows us to plan schedules and routes to ensure efficiency and economy. We can also monitor performance, update and adjust plans if necessary and report, both in real time and retrospectively."
Building materials suppliers
Second to tools and machinery is building material suppliers. Similarly, any delay in their deliveries will have a significant knock on effect to the start of their customers' building work.
That's why we worked with WEBFLEET fleet management solution from Webfleet Solutions to help
Industrial Metal Services (IMS)
optimise their delivery operations.
The combined solution enabled deliveries to be planned dynamically using vehicle location data and estimated times of arrival (ETAs). Routing and scheduling information is sent through WEBFLEET to IMS's mobile workers via their TomTom PRO 8275 TRUCK driver terminals. More than 400 daily delivery jobs are now allocated based on quickest arrival times, taking account of traffic information and historic route data.
"By keeping businesses updated with more accurate arrival times, and seamlessly adjusting our work schedules as traffic delays or other problems occur, we have dramatically improved our customers' experience," said Industrial Metal Services' Operations Director, Mark Williams.
"Furthermore, fewer miles on the road has meant annual savings of more than £191,000, an anticipated reduction in vehicle maintenance costs and an uplift in productivity."
Additionally, we have worked with
Champion Timber
to address the challenging levels of service that were expected by customers and to take the pressure off their team.
Praising the benefits of MaxOptra, John Burgess, Transportation Consultant of Champion Timber said, "MaxOptra offered the right blend of affordability, ease of implementation and use. The user interface allows our controllers to easily input jobs, calculate routes and timelines and change them, if needed, on a visual map display. Seeing the real time ETA of our shipments helps our customer service staff improve service with valid addresses a lot quicker, allocating routes efficiently and updating our customers with changes in schedules. I believe that MaxOptra is the only solution in today's market that is ideal for SME, but growing, companies."
"MaxOptra gives Champion Timber a competitive edge. We're moving towards narrower delivery time windows. The MaxOptra–TomTom combination gives us a formidable SatNav capability which gives us the confidence to quote a specific delivery time, instead of quoting the day of delivery. This solution is enabling us to satisfy our high customer expectations at an affordable price with no requirement for huge investment."
Plumbing and maintenance
With an increase in people working from home, there is an understandable increase in usage of facilities, such as toilets, sinks, and dishwashers. Because of this, businesses such as plumbers, maintenance, and supplies are seeing a surge in interest from B2C customers.
However, dealing with an influx of interest and meeting customer demand, quickly, comes with it's own issues.
For instance, we supported
Plumbing World
to expand its delivery fleet and increase its delivery area.
Prior to the implementation of MaxOptra, Plumbing World manually planned deliveries within the local vicinity and used outside couriers for other consignments. Due to the nature of many of the products on offer – large and or fragile – this was both time consuming and expensive. Following the introduction of MaxOptra, Plumbing World has been able to reduce the time taken to plan routes from 3-4 hours per day to just a matter of minutes.
"The streamlined workflow that MaxOptra provides has significantly reduced the planning task allowing us to reinvest this resource in other areas of the business. Looking into the additional functionality offered by MaxOptra we are excited by the automatic ETA notifications and the electronic POD process, which could further reduce the administrative resource of delivery planning and reporting."
We have also worked with
Drainfast
to consolidate its delivery planning process to improve operational efficiency and boost customer service.
"Following the introduction of MaxOptra all route planning and scheduling is now completed centrally, rather than by individual depot managers, allowing us to take an holistic view. This reduces the time taken to plan schedules and maximises delivery capacity."
Having configured its driver and vehicle settings, Drainfast simply imports spreadsheets, produced by its Intact accounting package, into the MaxOptra system.
Flooring suppliers and fitters
One challenge for many businesses within building and construction is the increasing price of fuel, or the costs of outsourcing deliveries to third party couriers
For example, we worked with the UK's largest online flooring company,
FlooringSupplies.co.uk
to reduce their costs as well as boost their customer service. By using MaxOptra, they have realised a return on investment with reduced fuel costs and less reliance on outsourced couriers. We have also helped them to adhere to driving regulations, reduce back office administration, produce comprehensive reports and plan for business expansion.
"We recently took the decision to introduce an in-house delivery fleet for the area served by our stores. This decision was based on an understanding of costs and the importance of customer interaction," commented Stewart Barnes, Director of Operations at Flooringsupplies.co.uk. "However, in order to make this decision work, we needed to maximise operational efficiency and control costs whilst still maintaining excellent service."
Prior to the introduction of MaxOptra, FlooringSupplies.co.uk had to manually enter delivery addresses into an online mapping web service, before re-organising the results into achievable routes.
With more than 80 different delivery options, this was time consuming, inefficient and did not provide sufficient business intelligence to effectively manage the delivery operation. Using MaxOptra, FlooringSupplies.co.uk now automatically produces routes and can easily access detailed information for reporting on all aspects of the mobile operation, including mileage, fuel costs and drivers' hours, for example.
"We were the first online retailer of flooring in the UK and have been trading since 1985, so we have learnt a thing or two about the importance of customer service in such a competitive market" continued Barnes. "In addition to the financial savings, MaxOptra also helps us maintain the highest standards of service with accurate ETA's and a range of communication tools."
Windows and doors
The point of fitting windows and doors into a building is often an exciting stage for any construction or renovation project. It signals that the main external construction is coming to an end, which means that customers are often keen to ensure their deliveries are on time, to avoid any delays in the final stretch of the project.
That's why Quickslide, a leading manufacturer of replacement windows and doors, came to us to boost their customer service.
With fully integrated TomTom telematics from Communicate Better, we enabled Quickslide to automatically share accurate ETAs with customers via text and email alerts. The MaxOptra system also allows customers to instantly track their order 24/7/365, in real time, on a map, directly from Quickslide's own website.
"We have always been passionate about service, in fact it's the most important thing that sets us apart from other suppliers in such a highly competitive industry," commented Tom Swallow, Sales and Marketing Director at Quickslide. "Control is an important factor in ensuring consistently great service, which is why we have always operated our own delivery fleet and why we needed to update our transport tracking and management processes."
Prior to the implementation of the MaxOptra Communicate Better solution, Quickslide operated its own transport tracking system; essentially a list of drops, a map programme, a vehicle tracker and a phone. Customers were provided with an approximate ETA and a phone number so they could call for updates if required.
"In an era when convenience is paramount and most customers are digitally engaged, we needed a system that delivered live information direct to the customer, was easy for our internal logistics team and easy for our drivers," continued Swallow.
"The integrated MaxOptra Communicate Better solution we now have provides a great customer information point, updating customers via text and email automatically, which in itself allows the drivers to operate more efficiently. The MaxOptra website widget also means customers can self-serve, accessing live order updates at any time."
Kitchens, bathrooms, and furnishings
Home furnishings, whether that be bathroom suites, fitted kitchens, or a new sofa, are all seeing a surge in sales as people are spending more time at home.
Of course, with a surge in business comes complications in processes. Technology needs to be adopted to streamline activity, keep track of deliveries, and ensure a seamless service.
That's why we supported
Leekes
to streamline the complex task of scheduling over a thousand deliveries of homewares and home improvement products every week across the UK.
Integrated with the company's sales order system, MaxOptra automatically processes order locations, produces optimised routes based on vehicle capacity and customer requests, and allows for the accurate calculation of ETAs.
Following a free trial of MaxOptra, Leekes implemented the hosted solution without the need for external support using the system's openly published API (Application Programme Interface). Since then Leekes estimate they have saved up to two hours planning time per day which has allowed for additional deliveries to be scheduled and routes planned without extra resource.
MaxOptra has facilitated improvements in customer service with more accurate ETA notifications, shorter delivery windows and in due course, an online delivery tracking service for customers.
"MaxOptra easily integrated with our sales order system so we can now automatically export addresses and calculate routes in a matter of minutes. The intuitive drag and drop functionality means we can adjust to incorporate local knowledge or changing requirements and the automatic production of delivery manifests, in order, by vehicle is a real eye opener."
Additionally, we have helped
Sofology
to improve the visibility and flexibility of its delivery operation.
Prior to the implementation of MaxOptra, Sofology operated a centralised planning system which did not allow customisation of routes to take into account local knowledge or real time incidents. Working closely with their existing telematics provider, Communicate Better, Sofology evaluated a number of options, including a review of their existing solution.
"We chose MaxOptra as it was very cost effective yet offered us the flexibility to increase and decrease our fleet as necessary to take into account seasonal fluctuations in service demand," commented Ian Millard, Group Transport Manager at Sofology.
"MaxOptra also allows us to easily share real time information using the 'track and trace' screen, giving other departments visibility of how each vehicle or team is performing."
MaxOptra is deployed at each of Sofology's regional depots and is used to schedule and route all deliveries. Seamlessly integrated with TomTom Telematics WEBFLEET , specific jobs or routes can be automatically allocated and dispatched to drivers according to a range of operational requirements.
Are you part of the building and construction industry?
If you are part of this industry, whether you offer fitted kitchens or plumbing services, and are looking to improve your delivery operation, then get in touch! We're always happy to have a chat.