Maxoptra Dynamic Delivery Software Floors Competition for Connection Retail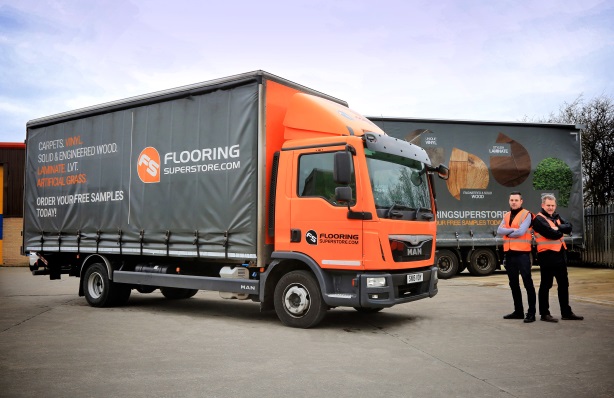 Flooring retailer Connection Retail, is paving the way for further national expansion following the implementation of Maxoptra dynamic delivery management and route planning software. The north-east based retailer, parent to brands Flooring Superstore, Grass Direct and Direct Wood Flooring, has already realised significant operational efficiencies, reduced mileage, saved costs and enhanced their customers' experience since implementing the cloud based solution.
Driving route planner UK
Starting out five years ago as an online only retailer, Connection Retail opened six Flooring Super Stores in 2017 with a further nine new stores planned for 2018. This high street and retail park expansion has been supported with the addition of extra warehouse capacity, strategically located nationwide distribution centres and additional vehicles for its own transport network. Following a record turnover of 23.5 million pounds in its latest accounts, Connection Retail is aiming for revenues of 30 million this year growing to 35 million in 2019.
"Delivery is a significant part of our business and plays a crucial role in our customer experience," commented Craig Richards, Transport Manager at Connection Retail. "With the help of Maxoptra we now have the capacity to fulfil deliveries within two working days to any mainland UK postcode. We can identify issues immediately, improve route efficiency and influence a positive customer experience."
HGV route planner
Operating an extensive in-house fleet consisting of two HGV Class 1 vehicles, nine 10 Tonne Rigid trucks and thirty Sprinter vans, Connection Retail makes between 400 and 600 deliveries every day. Using Maxoptra, Connection Retail builds complex delivery schedules in a matter of minutes taking into account both logistical factors such as vehicle capacity as well as customer delivery requirements. Complex route planning algorithms within Maxoptra have already contributed to a reduction in mileage and therefore operating costs and environmental impact.
Planners flooring
Maxoptra, integrated with the company's warehouse, transport and customer service departments, has also helped improve the efficiency of picking and allocating for despatch processes, especially when changes have been made to an order or route. Connection Retail also uses the Maxoptra app to track deliveries, in real time, and deliver live updates to customers via text and tracking codes for full traceability.
"Working with Maxoptra has been a great experience form initial contact right through to the fast response of the support team," conclude Richards. "The ability to build custom programmes has allowed us to tailor the software to our exacting business needs and the flexibility and scalability of Maxoptra has given us total control of deliveries."
CONTACTS
ABOUT MAXOPTRA
Easy to use, affordable and highly customisable, the Maxoptra routing and scheduling system helps companies to do more business with the same resources at a lower operational cost. Having an open API makes it an ideal complement to any telematics, WMS and CRM solution. As a subscription-based SaaS solution, Maxoptra is accessible 24/7 from any web browser worldwide; meaning every new release of functionality is immediately available to subscribers with no additional charge or upgrade cost.
Maxoptra is a division of Magenta Technology.
Magenta's scheduling solutions manage over 10,000 fleet vehicles worldwide every day. Customers include Gist, Avis Car Rental, Snap On, Serviceline, Walkers Transport, Champion Timber and many others.
Magenta Technology, 17c Curzon Street, London, W1J 7TL