Maxoptra Opens the Door to Better Customer Service for Quickslide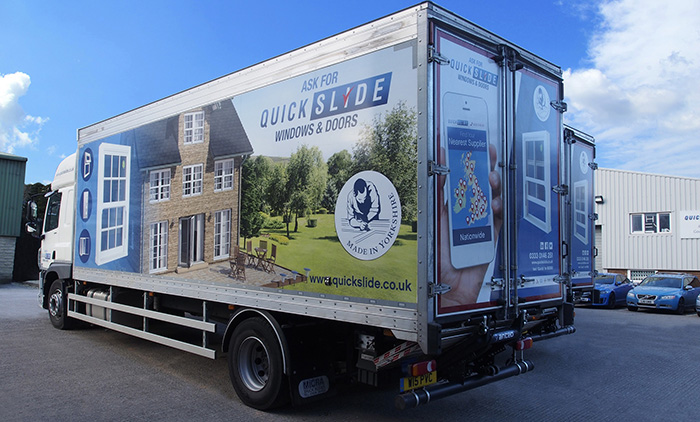 London, 20 September 2017 – Quickslide, a leading manufacturer of replacement windows and doors, has boosted its customer service following the implementation of Maxoptra multi-drop, cloud-based route planning software.
With fully integrated TomTom telematics from Communicate Better, Maxoptra allows Quickslide to automatically share accurate ETAs with customers via text and email alerts. The Maxoptra system also allows customers to instantly track their order 24/7/365, in real time, on a map, directly from Quickslide's own website.
Delivery route planner
"We have always been passionate about service, in fact it's the most important thing that sets us apart from other suppliers in such a highly competitive industry," commented Tom Swallow, Sales and Marketing Director at Quickslide. "Control is an important factor in ensuring consistently great service, which is why we have always operated our own delivery fleet and why we needed to update our transport tracking and management processes."
Quickslide is an award winning manufacturer of windows and doors that are British made and available for nationwide delivery from their factories in the north and south. Quickslide operates an in-house delivery fleet which supplies in the region of 1,500 products a week. Prior to the implementation of the Maxoptra Communicate Better solution, Quickslide operated its own transport tracking system; essentially a list of drops, a map programme, a vehicle tracker and a phone. Customers were provided with an approximate ETA and a phone number so they could call for updates if required.
Best route planner
"In an era when convenience is paramount and most customers are digitally engaged, we needed a system that delivered live information direct to the customer, was easy for our internal logistics team and easy for our drivers," continued Swallow. "The integrated Maxoptra Communicate Better solution we now have provides a great customer information point, updating customers via text and email automatically, which in itself allows the drivers to operate more efficiently. The Maxoptra website widget also means customers can self-serve, accessing live order updates at any time.
"We are thrilled with the service we have received from Maxoptra and Communicate Better. Implementing any new system can be daunting, especially one that dominates such a key area of the business, but I can honestly say we were filled with confidence throughout the process, and things are already working better than we could have hoped for," he concluded.
CONTACTS
ABOUT MAXOPTRA – www.maxoptra.com
Easy to use, affordable and highly customisable, the Maxoptra routing and scheduling system helps companies to do more business with the same resources at a lower operational cost. Having an open API makes it an ideal complement to any telematics, WMS and CRM solution. As a subscription-based SaaS solution, Maxoptra is accessible 24/7 from any web browser worldwide; meaning every new release of functionality is immediately available to subscribers with no additional charge or upgrade cost.
Maxoptra is a division of Magenta Technology. Magenta Technology, 17c Curzon Street, London, W1J 7TL
www.magenta-technology.com
ABOUT COMMUNICATE BETTER
We create success stories. As an award-winning market leader, Communicate Better keeps clients up to speed with cutting edge technology, providing cost-effective solutions for growing businesses. At the heart of what we do, comes building lifelong relationships with our customers.
Better Connected with Communicate Better
Keeping you at the heart of rich, new technology, Communicate Better's solutions help revolutionise thousands of businesses across the country. Our clients include Sofology, Thistle Hotels, Lowri Beck, Shred-it, Wellocks, Merseyside Police, Savills and many more.
Communicate Better, Offices Nationwide

http://www.communicatebetter.co.uk/