Maxoptra Maximises Customer Service & Delivery Performance for Axminster Tools & Machinery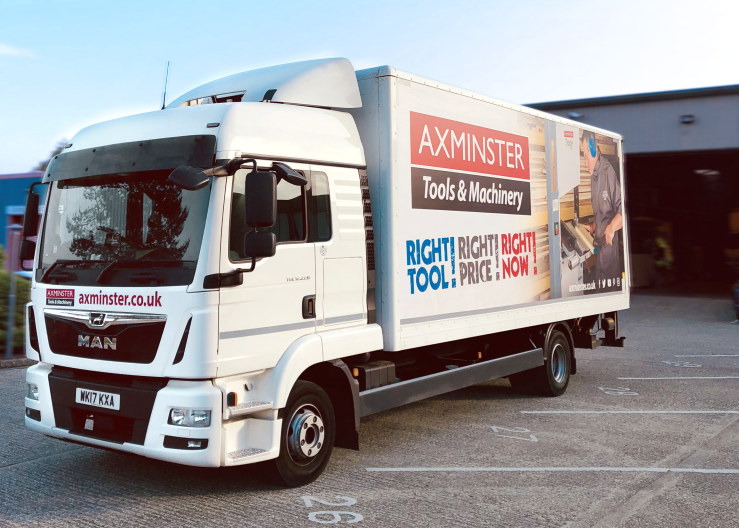 Axminster Tools & Machinery is using Maxoptra's customer service, delivery management and route planning technology to automate the optimisation and execution of deliveries for its successful mail order business. With eight stores across England and Wales, including Europe's largest tool and machinery store, Axminster offers nearly 17,000 stock lines and despatches around 1400 orders a day. An in-house fleet of light commercial vehicles is used for heavy or bulky orders, within mainland UK.
Route checker
"With orders being received from any one of our 215,000 customers, our logistics and transport operation is fast moving, complex and challenging," commented Richard Payne, Transport Manager. "In addition to fulfilling delivery of our own orders we also offer, through our logistics arm, a commercial delivery service using our in house fleet and carefully selected carrier partners. Technology is fundamental to our success."
The decision to implement the cloud based Maxoptra solution was taken to primarily boost customer service. "Maxoptra gave us an easy to implement, easy to use solution that addressed our needs from the moment an order is placed to the point when the truck pulls away having successfully completed a delivery," continued Payne.
Route planner multiple stops UK
"Maxoptra integrates with existing software and working practices. It allows us to plan schedules and routes to ensure efficiency and economy. We can also monitor performance, update and adjust plans if necessary and report, both in real time and retrospectively."
A cloud-based SaaS scheduling platform, Maxoptra can build a delivery schedule in a matter of minutes taking into account possible constraints such as vehicle capacity, driver restrictions and customer requirements. A powerful route optimiser, it gives users the opportunity to improve productivity and achieve tangible savings while a feature rich mobile app ensures the real time flow of business-critical information, including adjustments to the planned schedule, proof of delivery inc. photographs and customer signatures, and automatic ETA notifications.
Route optimiser
The Axminster warehouse, based in south west England, handles 240 containers per year. With 3,500 pallet locations, pickers can travel up to 7 miles on a busy day despatching 1,400 orders on average. Orders placed by 16:00 hours are usually sent out the same day with smaller packages sent via Royal Mail. Larger machines are delivered using Axminster's bespoke service which can include off loading and install assistance. Axminster's dedicated customer service team provide professional support to customers in the areas of delivery information, faults, problems and product returns.
CONTACTS
ABOUT MAXOPTRA – www.maxoptra.com
Easy to use, affordable and highly customisable, the Maxoptra routing and scheduling system helps companies to do more business with the same resources at a lower operational cost. Having an open API makes it an ideal complement to any telematics, WMS and CRM solution. As a subscription-based SaaS solution, Maxoptra is accessible 24/7 from any web browser worldwide; meaning every new release of functionality is immediately available to subscribers with no additional charge or upgrade cost.
Maxoptra is a division of Magenta Technology.
Magenta's scheduling solutions manage over 10,000 fleet vehicles worldwide every day. Customers include Gist, Avis Car Rental, Snap On, Serviceline, Walkers Transport, Champion Timber and many others.
Magenta Technology, 17c Curzon Street, London, W1J 7TL
www.magenta-technology.com