Maxoptra Makes Sofology Deliveries More Comfortable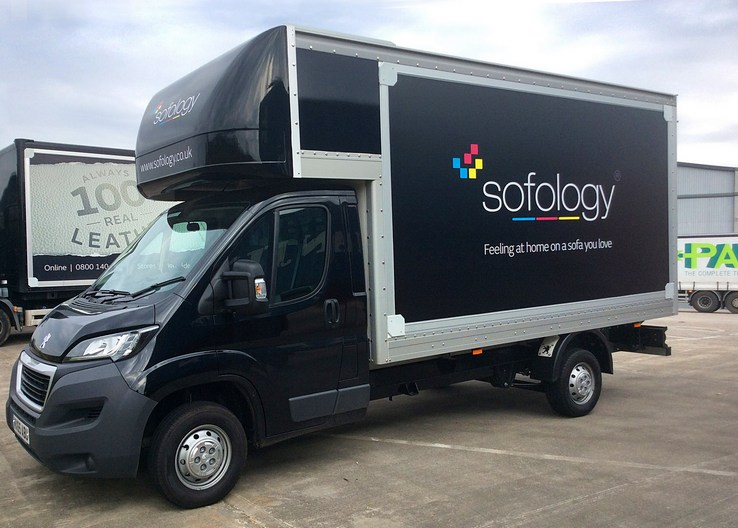 Maxoptra Makes Sofology Deliveries More Comfortable with Dynamic Routing and Scheduling
London, 10 May 2016 – Specialist sofa retailer Sofology has chosen an advanced dynamic vehicle routing and scheduling solution to help improve the visibility and flexibility of its delivery operation. The Maxoptra platform was selected as it was cost effective, compatible with Sofology's existing TomTom telematics solution, and allowed regional depot managers to customise and adapt routes as necessary. In time, Sofology is confident Maxoptra will deliver further benefits, including reduced operational costs and improved customer service levels.
Routing and scheduling software
Sofology (previously Sofaworks) has its headquarters in Greater Manchester and operates a fleet of more than 70 commercial vehicles from six distribution centres. Covering the whole of the UK, the Sofology distribution operation completes more than 500 deliveries daily, across a six-day operation, equating to more than 3,000 deliveries every week.
Prior to the implementation of Maxoptra, Sofology operated a centralised planning system which did not allow customisation of routes to take into account local knowledge or real time incidents. Working closely with their existing telematics provider, Communicate Better, Sofology evaluated a number of options, including a review of their existing solution.
Multi drop route planner
"We chose Maxoptra as it was very cost effective yet offered us the flexibility to increase and decrease our fleet as necessary to take into account seasonal fluctuations in service demand," commented Ian Millard, Group Transport Manager at Sofology. "Maxoptra also allows us to easily share real time information using the 'track and trace' screen, giving other departments visibility of how each vehicle or team is performing."
Maxoptra is deployed at each of Sofology's regional depots and is used to schedule and route all deliveries. Seamlessly integrated with TomTom Telematics WEBFLEET , specific jobs or routes can be automatically allocated and dispatched to drivers according to a range of operational requirements.
Logistics software
"The support from Maxoptra from day one has been excellent," continued Millard. "Working alongside our implementation consultant, John Burgess, the training, minor system changes and ongoing service we have received has been first class."
Maxoptra was developed by Magenta Technology – a pioneer in the development of dynamic and multi-agent software for managing commercial fleet operations. Magenta's scheduling solutions manage more than 10,000 fleet vehicles worldwide every day.
CONTACTS:
PR: Jane Geary, +44 7881 368452
https://maxoptra.com/
ABOUT MAXOPTRA
Easy to use, affordable and highly customisable, Maxoptra helps companies to do more business with the same resources at a lower operational cost, and having an open API is an ideal complement to any telematics, WMS and CRM solution. As a subscription-based SaaS solution, Maxoptra is accessible 24/7 from any web browser worldwide, meaning every new release of functionality is immediately available to subscribers with no additional charge or upgrade cost.