Maxoptra Wins 2016 Fleet Hero Award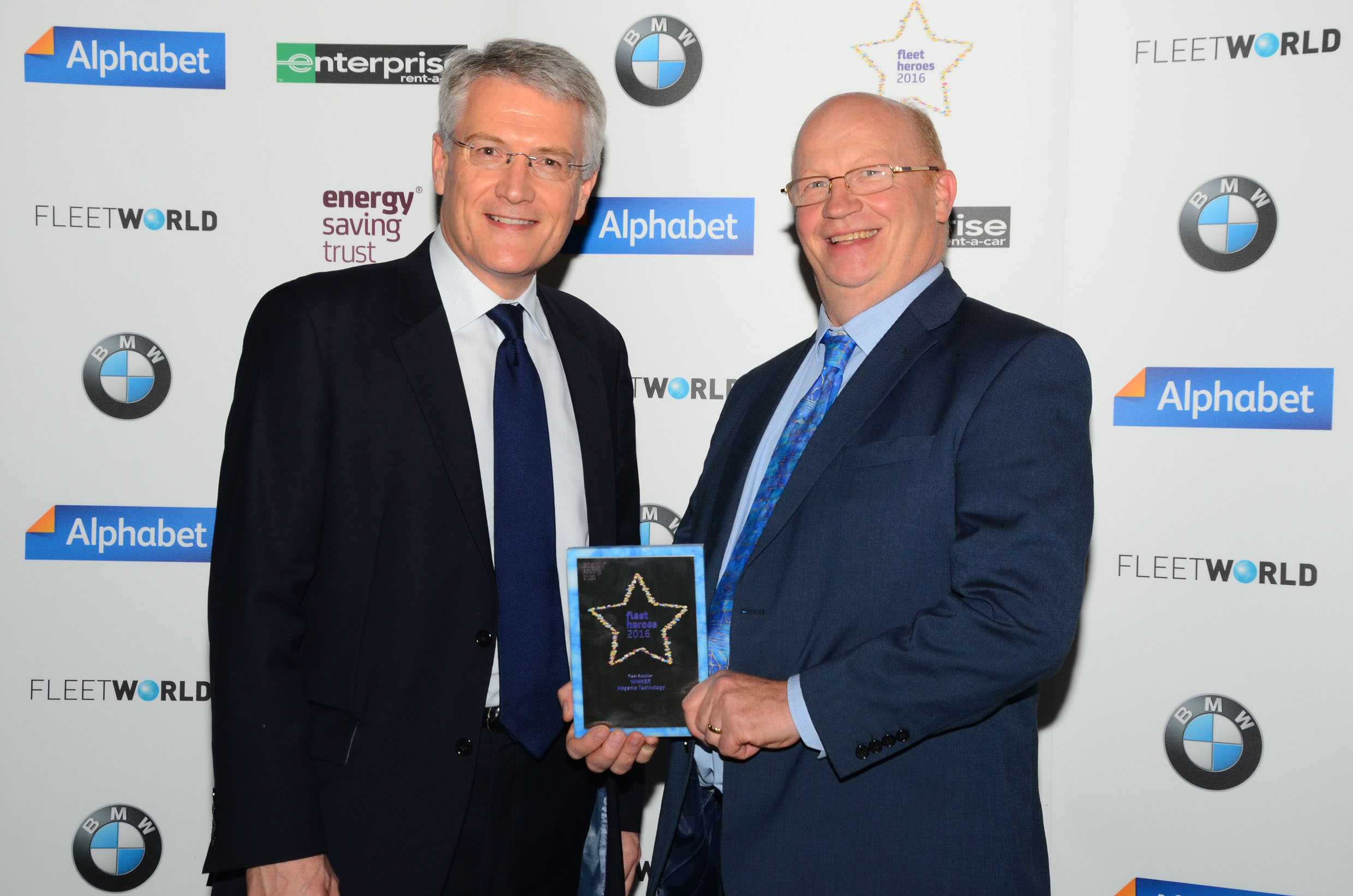 London, 30 November 2016: Maxoptra, the dynamic route planning software solution, has been awarded the Fleet Supplier 2016 Fleet Hero Award by the Energy Saving Trust in recognition of the support provided to help fleet operators reduce carbon emissions. Maxoptra is a cloud based, cost effective vehicle scheduling solution that helps service providers and distribution companies improve the efficiency of their transport operations – reducing unnecessary mileage and saving money whilst helping to minimise their impact on the environment. The 2016 Fleet Hero Award recognises the proactive approach taken by Maxoptra to make advanced route planning and scheduling available to fleets of all sizes.
Presented by Red Dwarf star, Scrapheap challenge host, and motoring journalist Robert Llewellyn at a gala evening of networking held at London's Transport Museum (24 November), the Fleet Hero Awards are designed to celebrate sustainable fleet management. A leading annual event in the fleet industry calendar, the Fleet Hero Awards showcase organisations that are proactively cutting carbon emissions through innovative transport policies, improved fleet efficiency or, as in the case of Maxoptra, the provision of cost and fuel saving products and services to fleets.
Andrew Jones, Minister of Parliament for Harrogate and Knaresborough and a Parliamentary Under Secretary of State in the Department for Transport, said in his keynote speech, "Every one of you here tonight has shown what can be done with the technology of today. I'd like to offer my congratulations to all of you. You are leading the way in showing what can be done to operate an efficient fleet, reduce emissions, save money and remain competitive."
Best route planner
Philip Sellwood, Chief Executive of the Energy Saving Trust, added, "Many congratulations to Maxoptra for deservedly being recognised as a Fleet Hero. It was terrific to hear of all the fantastic schemes that are happening across the country and the solutions, such as Maxoptra, that are on offer to reduce fleet running costs and emissions. By adopting such schemes and solutions businesses are reaping the rewards. They are also setting an example for their own staff to follow, while raising the bar for their partners and, indeed, their competitors."
"By offering SMEs a cost effective routing and scheduling solution, traditionally only accessible to large fleets, we can really help companies across the board address their carbon footprints whilst saving money and improving customer service at the same time," added Stuart Brunger, Maxoptra's Business Development Director, "It is therefore an honour to be presented with this award, and we look forward to working with the Energy Saving Trust to continue the good work and the positive impact of Maxoptra on the environment and the bottom line!"
Now in their 11th year, the Fleet Hero Awards are organised by the Energy Saving Trust, an independent and impartial organisation providing evidence-based advice and research that helps people save energy every day, and make more sustainable transport choices.
CONTACTS
ABOUT MAXOPTRA – www.maxoptra.com
Easy to use, affordable and highly customisable, the Maxoptra routing and scheduling system helps companies to do more business with the same resources at a lower operational cost. Having an open API makes it an ideal complement to any telematics, WMS and CRM solution. As a subscription-based SaaS solution, Maxoptra is accessible 24/7 from any web browser worldwide; meaning every new release of functionality is immediately available to subscribers with no additional charge or upgrade cost.
Maxoptra is a division of Magenta Technology. Magenta Technology, 29 Curzon Street, London, W1J 7TL
www.magenta-technology.com