MaxOptra reaches milestone of 500 customers and 3 million routes planned per month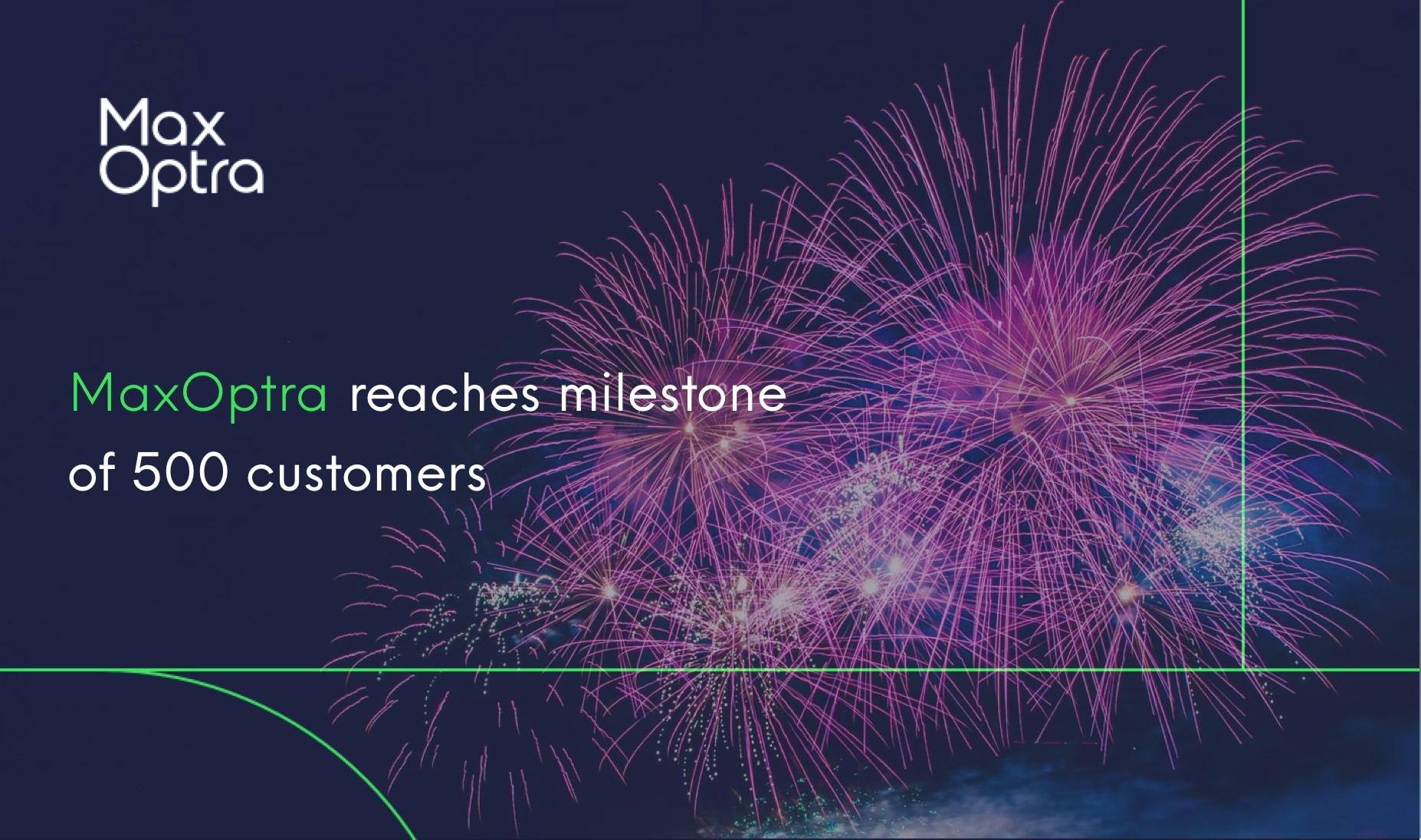 At MaxOptra we are incredibly proud to announce that we have reached the milestone of 500 customers!
That's a total of roughly 5,000 vehicles using MaxOptra.
And an enormous 3 million routes being planned every month using our system.
So, how have we achieved this?
This year has proven to be unpredictable for any business. So we're not ashamed to say we were apprehensive of what the future held once lockdown was implemented.
But instead of taking a back seat, at MaxOptra the team was working harder than ever to both support our existing and new customers, as well as potential customers who needed help to stay afloat.
We achieved this through the following:
MaxOptra support group
At the beginning of lockdown we formed the MaxOptra support group, with the aim of offering free, no-strings-attached help and advice for businesses who were struggling. Whether they were our customer or not.
For many B2B distributors and suppliers, their customer base had plummeted to zero. We guided these businesses in pivoting their approach from B2B to B2C (and D2C); showing them how they can change their delivery to supply to individuals in their home, instead. This proved a great success for many businesses. Some of which are continuing this new approach post-lockdown.
For other businesses, the support group involved advising them on how best to manage their routes and streamline their processes with a significantly reduced workforce. Many of those we spoke to had been forced into working unsustainably long hours to make up for their colleagues being furloughed. We were able to introduce these businesses to a paperless operation, dynamically planned routes, and integrated systems.
Overall this saved businesses a lot of time, money, and stress. Which was essential during this difficult period.
Regular content and thought leadership
Due to the amount of uncertainty and change, both within our industry and in the world, we felt it essential to keep our audience as informed as possible.
We achieved this by producing regular content and thought leadership, mirroring the latest industry updates and offering the most relevant and up-to-date advice.
Additionally, as we spoke to businesses from a wider variety of industries, we were able to offer tailored, industry specific advice to those we recognised were going through the most significant change.
If you would like to view and learn from our content, you can do so here.
Case studies
As well as content, we felt it was important that our audience learn from others in similar industries, going through similar challenges.
So this year we have focused on generating as many useful, educational case studies from our happy customers.
Yes, case studies are a great way to showcase what the MaxOptra system does. But they also offer wider business advice that others can learn from.
Notably, many food distributors and breweries were significantly changing their business model. Pivoting from B2B to B2C and D2C.
You can learn from these businesses here.
Continuous customer engagement
Of course, keeping in touch with our current customers has been a top priority for us.
Our support team has been working incredibly hard to check in with our customers, keep an eye on their activity, and ensure they are using the MaxOptra system in the best possible way to keep their business healthy.
The team have also remained on hand for emergencies; offering a 24 hour emergency hotline alongside regular email support, check in calls, and a host of support videos and documentation.
Additionally, we recently sent out a customer survey to gain feedback on the MaxOptra experience, and identify areas for improvement to continue keeping our customers happy.
Fast and efficient implementation
With so many businesses needing to change their model and get up and running with a system like MaxOptra. Fast. Our implementation team has had to step things up implement new customers more efficiently than ever.
For businesses who were really struggling, this meant getting them up and running in a matter of days, or even hours!
While this has been incredibly hard work for our team. It has been incredibly rewarding when hearing customers' feedback.
For instance, Sam Leigh-Simpson, PA to the MD at Holt Farm says:
"Chris, the Implementation Manager assigned to us, saved me! He was a genius with the system and ensured it was set up to do everything we needed it to do. MaxOptra has provided solutions we didn't know were possible and has literally transformed the way we run the business and the efficiency and accuracy of our deliveries"
Ensuring our technology remains cutting-edge and reliable
Last, but very much not least, is our technology.
At MaxOptra we always pride ourselves on continuously future-proofing our technology. Ensuring it is the most reliable and cutting edge system available.
This has never been so important as now.
Part of this process was sending out the customer survey to gain feedback on our features and functionality. We received some incredibly useful feedback, all of which we are considering in our future releases.
Want to hear more?
If your business is struggling this year, or simply looking to improve your routes and processes, get in touch with one of our friendly experts. They're always on hand to offer advice and support.