Maxoptra at the CV Show 2016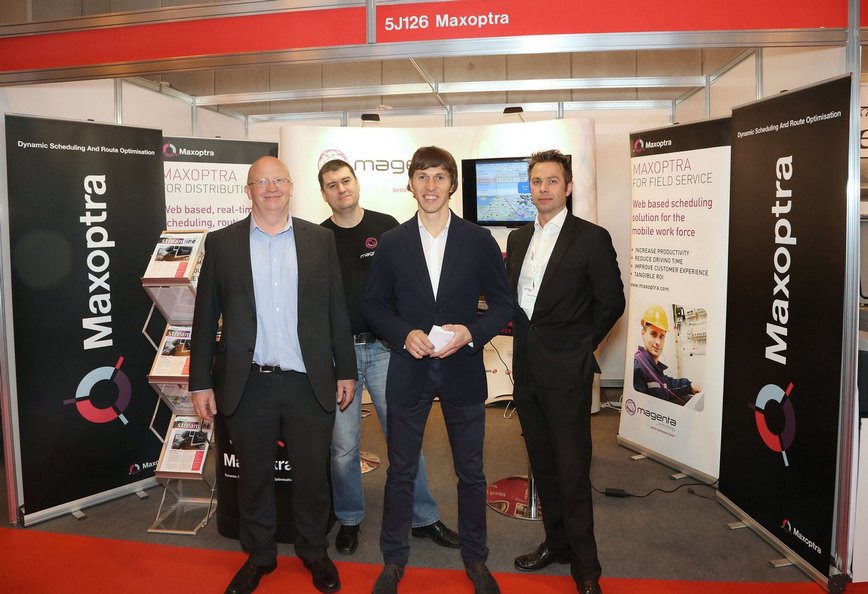 Although it seemed as if the CV Show had been better attended in previous years, the teams at the Maxoptra stand were kept busy having some interesting conversations with a steady stream of visitors.
Walking around the Show, one could see a large variety of established brands, such as Ford and Isuzu, as well some interesting new technologies on Fleet Management from Roadtech and Teletrac Navman. The format of the Show was professionally casual, with many negotiations taking place in business lounges around larger exhibition stands.
At the Maxoptra stand, we conducted software demonstrations for companies as diverse as tree care services, construction materials delivery companies, plumbing and electrical engineers, as well as catering supplies services. We had a couple visitors who were already familiar with Maxoptra from their previous company and were looking to bring our technology into their new company.
The underlying needs of clients that we met was making their planning and scheduling more productive, routing more intelligent, and customer experience more consistent. Individually or taken together, these lead to higher revenues or lower costs, or sometimes both at the same time.
The Maxoptra feature on which most visitors commented was the ability to add jobs during the day when the engineer is already in the field. This flexibility allows for higher productivity through prioritisation, leading to higher profitability per engineer while providing a better customer experience.
During the Show we were also able to have a few interesting conversations with potential partners – Telematics hardware and software distributors, and two Fleet Management software vendors who lack scheduling and route optimisation modules in their platforms. The opportunity is either to offer Maxoptra as a complementary product, or to fully integrate.
Contact our team and we will show you how Maxoptra can help.
Looking forward to the next Show!