The Maxoptra & Geotab Integration | How can it benefit you?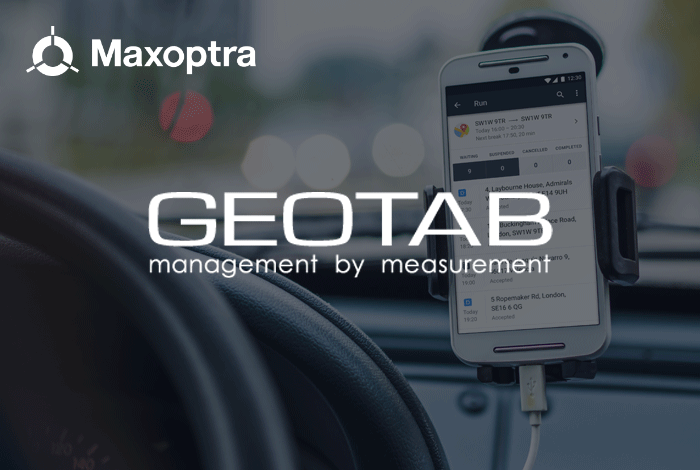 At Maxoptra we are very excited to announce our partnership with Geotab; a global leader in IoT and connected transportation. Geotab offers tracking capabilities which help fleet managers to improve productivity, safety and ELD compliance with the use of big data.
Our newly integrated solution leverages vehicle and tracking data collected via Geotab to provide fleet managers with sought-after intelligence on journey routes and times, data and fuel consumption, driver behaviour and vehicle maintenance. All to further improve operating efficiency and boost customer service.
Both systems are powerful in their own right, however when combined users can really boost their distribution performance. Let's take you through some of the Maxoptra features that work best when partnered with Geotab:
Route optimisation
Maxoptra automates the process of route creation and optimisation; taking into account traffic conditions, known roadworks, vehicle capacities, live order volumes and delivery time windows. This can reduce excess mileage and cut operations costs by up to 20%.
Mobile app
Maxoptra's Driver App runs off drivers' mobile phones, giving you the benefits of real-time job notification, live reporting and proof of delivery peace of mind, including barcode scanning, signature and photo capture. The Driver App is a great addition for operators who want to run a paperless operation while, at the same time, getting all the benefits of customer ETA notifications and ePOD functionality.
Track and trace
Track and Trace can be used to specifically monitor each driver's performance relating to completed jobs, missed jobs, correct sequence and so on. With the ability to produce 'planned vs actual' results, you can determine real-life routes taken by your employees versus optimised routes.
Customer notifications
Proactively send out advanced email and SMS ETA notifications to regularly keep your customers informed. Customers can also keep themselves updated via your own Website Widget. For added peace of mind for both you and your customer, our ePod app allows drivers to log proof of delivery signatures, photos and comments.
So what does all of this functionality actually mean for the user? We have found that there are four key challenges that our customers frequently experience which this integration can address:
Reduce costs
Geotab directly addresses this challenge using driver behaviour data to ensure the efficiency of staff. However, with Maxoptra you can utilise this data to plan even more effectively; ensuring better productivity per vehicle.
Additionally, the ability to automate routes within the system means a reduction in paper-based plans, reducing your costs and also helping the environment!
Keep customers happy
When combined with the real-time location information from Geotab, Maxoptra can offer accurate time windows and you can be confident that your vehicles will be arriving on time.
You can further benefit from this functionality by offering your customers accurate ETA notifications that can be sent out via email and SMS.
Ensure compliance
Again, the driver behaviour and vehicle capacity information that Geotab collects allows companies to monitor whether compliance regulations are being regularly met. With Maxoptra this information can be taken to the next level, as businesses are able to plan routes that can be achieved based on available driver hours. Additionally, you can ensure that basic compliance criteria, such as vehicle weight, are frequently being met.
Reduce fuel consumption
Geotab collects real-life operational data which allows Maxoptra to produce an optimal plan that maximises fuel consumption and reduces both empty running and wasted mileage. Quite simply put, by automating optimised routes and monitoring the results, your fleet will be covering less miles and using less fuel. Once again, this is cost-effective for you and more environmentally friendly!
If you would like to learn more about how the Maxoptra Geotab integration could benefit you and your business, get in touch with one of our experts.