The industries that will excel in 2021. And how they can improve their delivery offering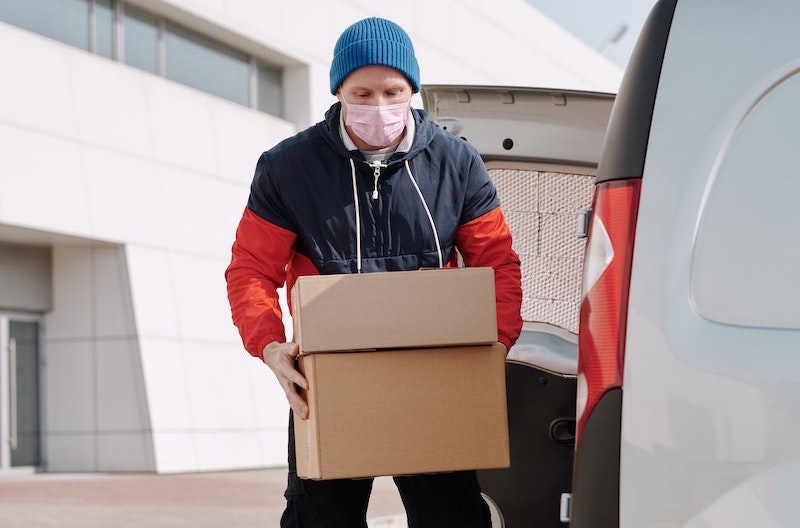 The past year has thrown many challenges at businesses.
Lockdown has resulted in many high street businesses having to shut shop. Whilst others have found ways to pivot their businesses to appeal to their audiences who are staying at home.
But as consumers' needs and habits have rapidly changed, there are industries who are poised to excel over the coming year.
In this post we will look at some of those industries, and identify how they can make the most of their delivery offering to keep their customers happy and purchasing.
Building and construction
Many suspended sites in England and Wales were reopened much sooner than originally anticipated. Which was a welcome relief for the industry.
This resulted in construction output growing by a record 41.7% – £11,070 million – during the third quarter of the year. 
This has been the largest period of growth since quarterly records were introduced at the beginning of 1997. And considerably larger than the previous record quarterly growth of 4.9% in the second quarter of 2010.
Experts are predicting that the building and construction industry will now see a gradual and sustained recovery over the next couple of years.
It is expected that with the vaccine, consumer confidence will increase and lead to a rise in construction projects and productivity. 
Additionally, there are predictions of increased public sector investment this year, particularly in road schemes, school building, and NHS building projects.
The Government has further promised to improve investment in infrastructure, which suggests that civil engineering products that have previously been disrupted will recover in 2021.
Food and beverage
Due to the pandemic, many businesses in the food and beverage industry have struggled to maintain customers and bring in new sales, whilst others are dealing with a sudden increase in demand.
To tackle these challenges, many businesses are re-focusing their approach and business model; pivoting from B2B to B2C, or D2C.
In 2020, businesses that have offered fast delivery to people's homes have flourished. Alongside premium food brands, and frozen goods.
Many businesses have even introduced their own 'at home' branch of the business, supplying the same quality goods that they previously delivered to restaurants and hotels.
Pharmaceutical and healthcare
Due to the pandemic, it may not surprise you that the pharmaceutical and healthcare industry is predicted to boom over the next. And news of successful vaccines has boosted pharmaceutical shares. 
Pharmaceutical and healthcare may already seeing an increase in demand, but this is set to remain for the long term as businesses become more focused on health and cleanliness. Particularly schools, hospitals and care homes.
And of course there has been increased demand in PPE equipment and medical supplies, which may well continue while we manage the pandemic. 
Also due to the pandemic, consumers are seeing an increased interest in their own health and wellbeing. Meaning that medications and vitamin purchases are predicted to be on the rise.
Gardening and outdoor
Garden centres and DIY stores saw a 12% rebound in retail sales in May. 
And the industry is set to do well in 2021, with the gardening tools market set to reach $105.53 billion (£81bn) by 2025 at an annual growth rate of 4.2%.
The reasoning behind this is, as you'd expect, is lockdown-reated. With more people at home and wanting to make the most of their own outdoor spaces.
But this trend is predicted to continue as many people have moved out of cities or have a new routine that is based around their home. So it is likely people will continue to invest in their own property and outdoor spaces for the foreseeable.
5 things that these industries can do to improve their delivery offering
As businesses change and adapt to face new challenges and new 'norms', one thing remains consistent. People are buying online and requiring their goods to be delivered.
To continue to excel in 2021, businesses need to improve their delivery offering.
Here's how:
Improve your fixed routes
Now is the time to ensure that routes are as efficient and streamlined as possible. Due to a significant increase in activity for many businesses, dealing with delays or impractical routes is the last thing a business would want to be dealing with right now.
We know that fixed routes can degrade over time, so by using route optimisation software you can be confident that you are getting the very most out of your fixed route network: managing priority customers and any route changes that have come about.
Upgrade to dynamic, optimised routes
Alternatively, now could be a great opportunity to upgrade from fixed routes to dynamic, optimised routes. This will enable businesses to save time and resource by allowing software to produce multi-drop routes in seconds, as well as taking into account traffic, vehicle information, route restrictions and driving times.
Integrate your business systems
Don't waste unnecessary time due to bad integrations. Now, more than ever, it is important that all of your business systems are fully integrated and running smoothly. This will ensure no bottle-necks or issues during such an important time.
By using a system, such as MaxOptra, that offers an open API, you can easily integrate all of your existing business systems.
Improve customer communication
It's a stressful time for the many industries, meaning that you don't want to add to their worries with late deliveries or a lack of communication.
Keep your customers informed with advance and on-the-day email and SMS communications, such as predicted delivery times, and real-time updates on where their order is.
Track vehicles and performance
Of course, if you're putting measures in place to ensure you keep your end-customer happy, you will want to track the success of your efforts.
That's why it's important to know what's going on once your vehicles have left the depot. You can either link systems such as MaxOptra to your current in-vehicle telematics, or use our Driver App to monitor what's going on in real time.
Get in touch
If you are a business in any of the above industries and would like to discuss your routing and scheduling needs, get in touch with one of our experts for a consultation or demonstration of our system.