Maxoptra Route Planning Leaves Total Hygiene Flushed with Success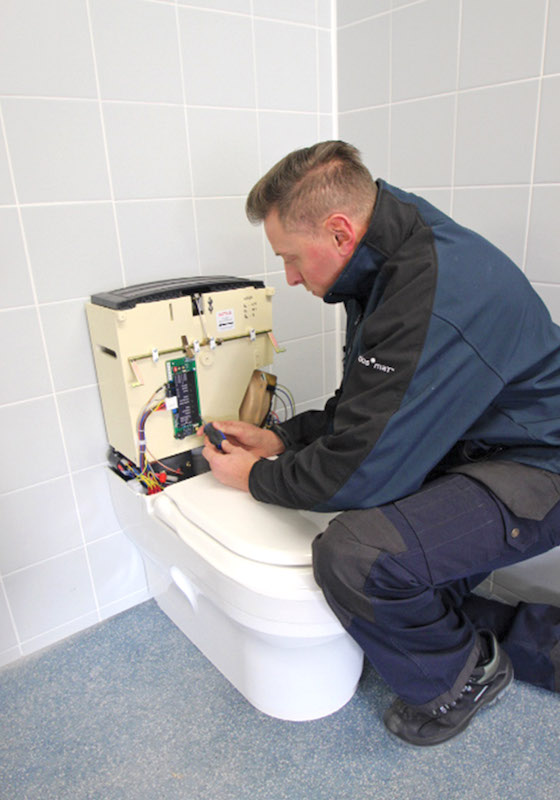 London, 25 May 2017 – Total Hygiene (Clos-o-Mat), the leading supplier of specialist wash and dry toilets for the elderly and disabled, is reaping the rewards following the implementation of a high-tech system to manage its mobile service operation. The cloud-based Maxoptra delivery route planner and scheduling software has already helped the company increase the productivity of its service engineers by more than 30 per cent, improve customer service, and make significant inroads in the journey towards a paperless office.
Field service management software
"Prior to the implementation of Maxoptra, service engineers would schedule their own workload and plan their own routes," commented Michael Delaney, Service Administration Supervisor at Total Hygiene. "Despite the vast experience of our UK wide service team, this wasn't always the most efficient way of working. Moving to Maxoptra has allowed us to take control back to the office and we are now able to provide clients with timely updates further improving the service we offer.
Total Hygiene (Clos-o-Mat) manufacture, install and maintain the Clos-o-Mat wash and dry automatic shower toilets. With more than 55,000 units sold to date, some of which are still in daily use at least 30 years after installation, Clos-o-Mat is the only manufacturer in this sector based wholly in the UK and with a dedicated in-house service team. Offering nationwide coverage the field based engineers install and maintain equipment in tourist attractions, such as Wembley Stadium and Cadbury World, hospitals and healthcare facilities, retail outlets, including Morrison's supermarkets, and private residences.
Multiple destination route planner
"Maxoptra's simple to use interface and visual planning tools makes life easy for our planners," continued Michael. "In fact Maxoptra is so straightforward you can be up and running in minutes. Although easy to implement and easy to use the functionality offered, especially the ability to auto plan diaries, is immense."
TomTom route planner UK
Total Hygiene originally selected Maxoptra as it integrated with their TomTom in-cab navigation system supplied by Communicate Better. Total Hygiene is currently using Maxoptra's manual planning option, assisted by intelligence driven routing and scheduling algorithms. As engineers are brought online the move to Maxoptra's automatic planning will be made and the system integrated with the company's asset management system.
My experience with Maxoptra has been very positive," concluded Michael. "The system has done everything we hoped it would and the support has been second to none. We have increased productivity, improved customer service and we are confident that the continued use of Maxoptra will contribute to a rise in profitability."
CONTACTS
ABOUT MAXOPTRA – www.maxoptra.com
Easy to use, affordable and highly customisable, the Maxoptra routing and scheduling system helps companies to do more business with the same resources at a lower operational cost. Having an open API makes it an ideal complement to any telematics, WMS and CRM solution. As a subscription-based SaaS solution, Maxoptra is accessible 24/7 from any web browser worldwide; meaning every new release of functionality is immediately available to subscribers with no additional charge or upgrade cost.
Maxoptra is a division of Magenta Technology. Magenta Technology, 17c Curzon Street, London, W1J 7TL