Maxoptra Delivery Software Helps Speedcrete Speed Distribution of Construction Equipment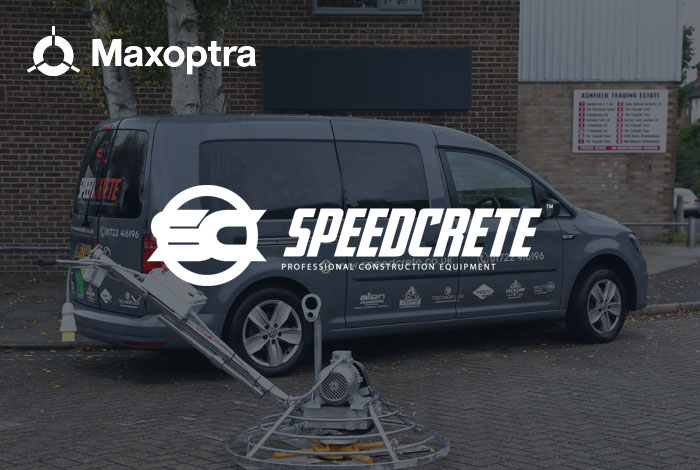 Maxoptra real-time delivery management and routing software is helping construction equipment specialist Speedcrete transform its customer service. Integrated with Speedcrete's internal systems and workflows Maxoptra is used to route drivers' to their daily scheduled locations to make deliveries, collections and exchanges of sales and rental equipment. Automatically generated email and text ETA notifications are improving communications with customers and the use of real-time updates is increasing the efficiency of drivers once on-site.
"Our mobile operation is slightly unusual due to the nature of the goods we transport," commented Nathan Dod, General Manager of Speedcrete CP Ltd. "Our deliveries are often large and heavy and we can travel long distances to get plant, equipment and supplies to construction sites. While first time delivery success itself wasn't an issue maximising the efficiency of a driver once on-site was."
Speedcrete operates a fleet of around twenty vehicles ranging from small box vans to large HGV flat beds distributing plant equipment, for rental and sale, nationwide from four strategically located depots. The company transports a vast array of professional construction equipment and is the recognised main UK distributor dealer for brands such as Husqvarna, Bunyan Industries, Blastrac, Chapin, Allen Engineering, Kraft Tools and W Rose Brick Tools.
Using Maxoptra's open API (application programme interface) Speedcrete was able to easily integrate the software with its back office systems. Jobs are imported with a single click and Maxoptra creates daily schedules and routes for each driver using factors such as driver location, vehicle capacity and customer requirements.
Once the day's activities have been scheduled Maxoptra automatically generates and sends email and text notifications of ETAs to Speedcrete's customers. The Maxoptra driver app provides real time job notification, tracking, live reporting and proof of delivery recording, including bar code scanning, signature and photo capture. This allows managers to respond to potential disruptions and keeps Speedcrete's customers informed.
"The ability to keep our customer's informed at every stage of the delivery process is not only boosting customer service it's improving efficiency too. As customers know when the driver will be with them they can be prepared, and regular updates sent by Maxoptra mean there are less likely to be on-site delays or obstructions," continued Nathan Dod. "The technical support from Maxoptra has also been first class as we introduced new equipment for drivers which can take some getting used to."
Why not check out our other case studies, such as how we helped Cherwell to improve their cost to serve.