How MaxOptra Helped Cherwell To Improve Cost To Serve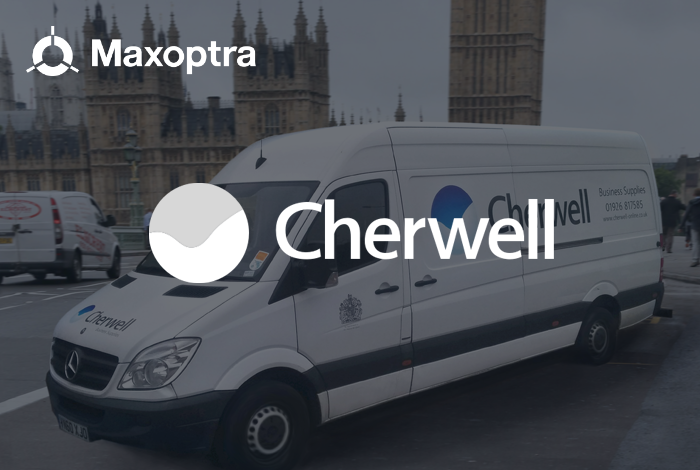 Maxoptra real-time scheduling and delivery management software is helping Royal Warrant holder Cherwell improve the delivery of hygiene, catering and janitorial supplies to sites across facilities management companies, universities and even Buckingham Palace.
Fully integrated with Cherwell's existing management systems, including ERP (enterprise resource planning) software from Merlin and TomTom vehicle tracking, Maxoptra is helping reduce their 'Cost to Serve'. Savings have already been realised in the time taken to schedule complex routes, as well as the mileage and man-hours required to complete deliveries.
Cherwell has also improved customer service with more efficient and accurate ETA messaging fed directly back to the ERP system, streamlined its warehouse operation with intelligence driven picking and reduced a backlog of outstanding orders.
"Having completed a study of our Cost to Serve we knew we needed to implement changes in our workflow in order to improve our logistics capability and maintain our customer focus," commented Timothy Merridew, Business Services Manager at Cherwell Packaging.
"We selected Maxoptra based on its rich functionality and its ease of use and, since implementing it, we have realised a significant reduction in costs evidenced through reduced back-office resource and the lowest overtime bill in recent history!" he continued.
A family run business, Cherwell has been operating for over 40 years and was awarded the Royal Warrant by HM Queen Elizabeth II in 2002 as 'Suppliers of Washroom Requisites'. Operating from two sites, Southam in Warwickshire and Wednesbury in the West Midlands, Cherwell holds over 8,000 stock lines and, using its fleet of 11 vehicles, completes around 100 deliveries a day.
Prior to the introduction of Maxoptra, Cherwell estimates it took around 1 man-month per year to schedule and route deliveries. Due to the complexity of the process the order cut off point for next day delivery was unnecessarily early and vans were often not loaded to full capacity, leading to unnecessary mileage.
The delivery operation used fixed geographic routes, was heavily reliant on driver experience and the only visibility of the mobile operation was from the on-board vehicle tracking.
Using Maxoptra, Cherwell has reduced the time taken to schedule and route deliveries to a matter of minutes, meaning orders can be processed much later each day. The mobile operation is more efficient with vans running at capacity and Cherwell has seen a reduction in both mileage and driver hours contributing to its Silver Level Carbon Smart certification.