Leekes Streamlines Home Deliveries with Maxoptra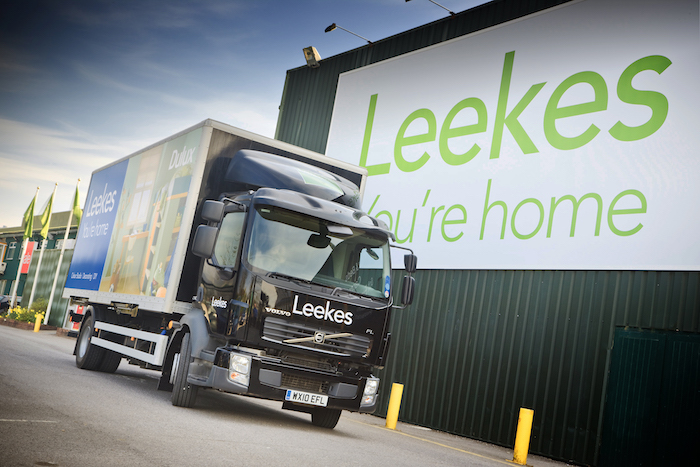 London, 28th June 2016 – Dynamic delivery route planning software is allowing Leekes – one of the UK's leading independent retailers – to automate its nationwide home delivery service. The online Maxoptra delivery route optimisation platform is helping Leekes to streamline the complex task of scheduling over a thousand deliveries of homewares and home improvement products every week across the UK. Integrated with the company's sales order system, Maxoptra automatically processes order locations, produces optimised routes based on vehicle capacity and customer requests, and allows for the accurate calculation of ETAs.
Following a free trial of the Maxoptra platform Leekes implemented the hosted solution without the need for external support using the system's openly published API (Application Programme Interface). Since then Leekes estimate they have saved up to two hours planning time per day which has allowed for additional deliveries to be scheduled and routes planned without extra resource. Leekes are confident Maxoptra will also facilitate improvements in customer service with more accurate ETA notifications, shorter delivery windows and in due course, an online delivery tracking service for customers.
Best route planner
"We are proud of our home delivery service and the feedback we receive tells us it is one of the reasons customers come back to us," commented Simon Perrin, Distribution Manager at Leekes Ltd. "However managing such a complex operation is time consuming and as the company expands we needed to be able to increase the planning and delivery management function accordingly."
Leekes currently operate a fleet of two person Class 2 LGV vehicles from five regional operating centres. Delivering furniture, large home appliances and even complete kitchens, up to seven days a week, to customers across the UK, Leekes is in the process of expanding its delivery service with a new regional operating centre coming online soon.
Routing and scheduling software
"Prior to the implementation of Maxoptra, the scheduling and route planning task was predominantly manual and overwhelmingly paper based," continued Perrin. "Maxoptra easily integrated with our sales order system so we can now automatically export addresses and calculate routes in a matter of minutes. The intuitive drag and drop functionality means we can adjust to incorporate local knowledge or changing requirements and the automatic production of delivery manifests, in order, by vehicle is a real eye opener."  
Stuart Brunger, Head of Business Development at Magenta Technology, added, "The feedback we have received is that Maxoptra was easy to implement, easy to use and, even at this early stage, is delivering tangible results and we are looking forward to working with Leekes to build on these early successes."
CONTACTS:
Reader enquiries to Jane Geary, jane.geary@magenta-technology.com or tel +44 (0) 7881 368452
Editorial enquiries, contact Robert Peel on tel +44 (0)1666 823306, robert@market-it.co.uk
www.maxoptra.com
ABOUT LEEKES
Leekes was founded at the end of the nineteenth century by James Henry Leeke on the twin principles of selling quality goods and delivering excellent customer service. From a humble beginning in South Wales the company now has six department stores as well as strong online presence. By offering customers an unbeatable choice of furniture, for every room in the house, with arguable the biggest kitchen and bathroom studios, Leekes believe they have earned the right to call themselves 'the home experts'.
ABOUT MAXOPTRA
Easy to use, affordable and highly customisable, the Maxoptra routing and scheduling system helps companies to do more business with the same resources at a lower operational cost. Having an open API makes it an ideal complement to any telematics, WMS and CRM solution. As a subscription-based SaaS solution, Maxoptra is accessible 24/7 from any web browser worldwide; meaning every new release of functionality is immediately available to subscribers with no additional charge or upgrade cost.
Maxoptra is a division of Magenta Technology.
Magenta's scheduling solutions manage over 10,000 fleet vehicles worldwide every day. Customers include Gist, Avis Car Rental, Snap On, Serviceline, Walkers Transport, Champion Timber and many others.
Magenta Technology
29 Curzon Street, London W1J 7TL
Tel: +44 (0) 207 494 7510
www.magenta-technology.com