Helping Prestige Beds With Routing & Scheduling Software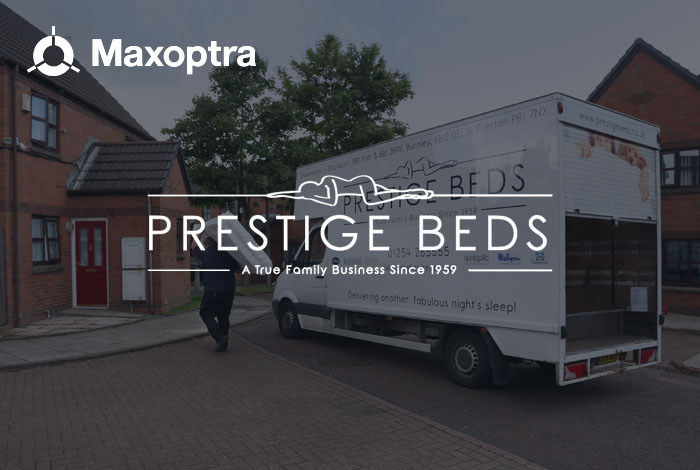 Prestige Beds has implemented real-time delivery management and routing software from Maxoptra. The cloud based system, with integrated Teletrac Navman GPS tracking and Maxoptra's mobile app, has put control back in the business with automated planning of around 300 deliveries a week. The morale of drivers has improved, with more efficient delivery routes, and customer service has been boosted with more accurate and timely communications.
Delivery route optimization
"Maxoptra has given us back control of our delivery operation," commented Russell Taylor, Warehouse Manager at Prestige Beds. "We now plan deliveries up to 48 hours in advance, we can intelligently take delivery bookings from customers at point of sale and we can react, in real time, to external events, such as motorway closures. These advances, achieved through the use of Maxoptra, have been evidenced with happier customers and happier staff which in turn of course means happier management. It's probably fair to say we all sleep much better since introducing Maxoptra!"
Prior to the implementation of Maxoptra Prestige Beds' deliveries were manually scheduled using a mixture of experience and local knowledge. Drivers planned their own routes, with the aid of in-cab Satellite Navigation, and sales staff could book delivery slots without visibility of capacity or existing commitments.
Delivery route planner
Since implementing Maxoptra Prestige has streamlined the delivery operation planning and execution with schedules put together up to 48 hours in advance. By removing the need for vehicles to return to the depot mid run with more efficient routing, drivers are not expected to have regular early starts or late finishes.
Delivery app
As evidenced by a Trusted Shops rating of 4.94/5 Prestige Beds has also improved customer service and satisfaction levels. "Delivery slots can be agreed with customers with complete confidence. On the day of delivery Maxoptra produces an automated message before 9 o'clock letting the customer know when to expect us and this is updated as necessary throughout the day," added Taylor. "And, because our scheduling is more intelligent, we have more time to spend with our customer onsite if required. This has resulted in fewer calls from customers and a rise in our online ratings."
Prestige Beds is a family business established in 1959. One of the first in the country to specialise in mattress and bed sales, Prestige recently opened its fifth showroom in Manchester. Prestige Beds works with some of the leading names in the sector, such as Hypnos, Harrison and Sealy, and maintains a stock of over 1,000 beds and mattresses.