Maxoptra Web Widgets Work Wonders for Customer Service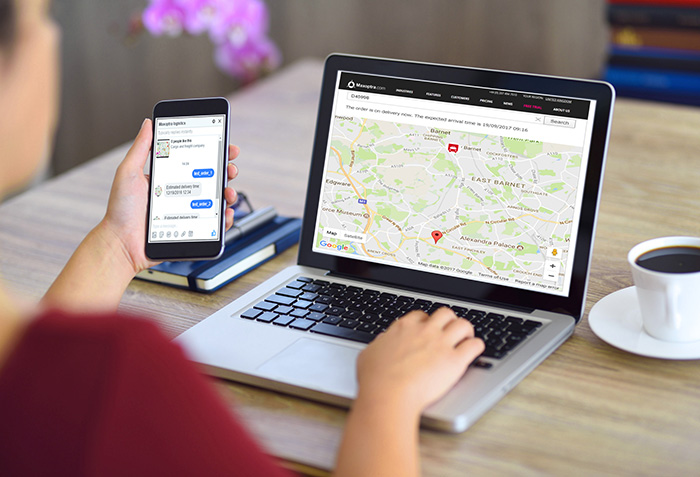 London, 19 September 2017 –Maxoptra has launched a range of web-based 'self service' order tracking and ETA notification tools. The Maxoptra Website Widgets can be embedded into any website, such those of the retailer, the delivery company or the service provider, or from a Maxoptra owned location. The widget allows the customer – the recipient of the delivery or service – to access information about current order status, estimated time of delivery and current vehicle location for example, via an easy to interpret map screen. The Maxoptra app can also automatically generate SMS or email notifications, including links to real time status updates.
Delivery app
One early adopter of the Maxoptra website widgets commented, "In an era when convenience is paramount and most customers are digitally engaged, we needed a system that delivered live information direct to the customer. The Maxoptra Website widget does just that – allowing customers to self-serve, accessing live order updates at any time."
The ETAs and delivery status information, accessed by the website widgets, is generated by Maxoptra's intelligent route planning and optimisation algorithms, and can be automatically and continuously updated using on-board telematics. And, as Maxoptra is cloud-based, the new Website Widgets are automatically available to all users the next time they log into Maxoptra, without the need for complex upgrades, IT support or additional budget.
Best route planner app
This latest announcement follows on from the earlier news that Maxoptra had released a new Facebook bot that enables ETAs be accessed via social media, using the already familiar Facebook Messenger service.
"The Maxoptra Website Widgets and Facebook bot mean customers can access everything they need to know about an order when they want to know it," added Stuart Brunger, Business Development Director at Maxoptra. "They also it make the provision of SMS and email notifications very easy."
Route planning software
Maxoptra is a market leading cloud based dynamic scheduling and route optimisation software platform. Although used by some of the largest fleets in the UK and Europe, Maxoptra appeals to all fleet operators as it is easy to use, robust, flexible and well supported. Maxoptra is easy to integrate with existing back office systems and processes, with telematics and customer service solutions and, being cloud based, is accessible from any Internet enabled device including smartphones and tablets.
CONTACTS
ABOUT MAXOPTRA – www.maxoptra.com
Easy to use, affordable and highly customisable, the Maxoptra routing and scheduling system helps companies to do more business with the same resources at a lower operational cost. Having an open API makes it an ideal complement to any telematics, WMS and CRM solution. As a subscription-based SaaS solution, Maxoptra is accessible 24/7 from any web browser worldwide; meaning every new release of functionality is immediately available to subscribers with no additional charge or upgrade cost.
Maxoptra is a division of Magenta Technology. Magenta Technology, 29 Curzon Street, London, W1J 7TL
www.magenta-technology.com