Maxoptra Software Pitches In to Improve Beer Deliveries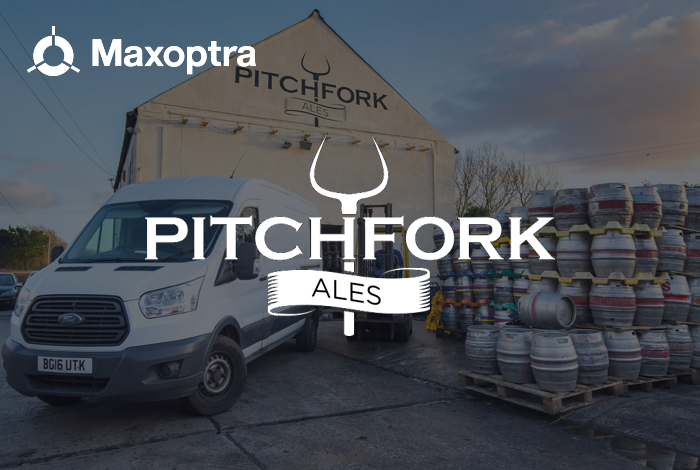 West Country brewer Pitchfork Ales, has improved the efficiency of beer deliveries following the implementation of Maxoptra real-time scheduling and routing software. The brewery has optimised its multi drop delivery routes reducing mileage and transport costs, as well as boosting customer service with improved flexibility and communications.
Part of Epic Beers, the on-trade business delivers around 250 casks of ale per week to customers across the south-west of England, the Midlands and Wales. Serving around 400 pubs, clubs and restaurants Pitchfork make between 20 and 40 deliveries a day.
"As a business we are continually evolving; when we first started we had a solid local customer base and drivers who knew the area," commented Dave Turner, Beer Ambassador at Pitchfork Ales. "Since then we have made forays into nationwide delivery before settling on our current territories. During these changes Maxoptra has been a critical component of our planning and service delivery."
Maxoptra has enabled Pitchfork to streamline its business process with greater automation. On implementation Pitchfork immediately achieved a reduction in mileage on the two-day runs it was operating, equating to a saving of around 400 miles a week. The software has since further enhanced the efficiency of both the delivery of beer and the pick-up of empty casks.
By providing a clear visual indication of territories and delivery routes Maxoptra can highlight outstanding deliveries and allow for the scheduling of ad-hoc requests. Maxoptra is also programmed to automatically identify potential cask collections along a delivery route further enhancing mobile efficiencies. Managers at Pitchfork also use Maxoptra to keep customers informed as to when their beer delivery is due and manage the workload of their drivers.
"The pub trade is notoriously difficult with antisocial hours and unpredictable peaks, and, as the delivery expectations we have as consumers, such as next day or even same day, make their way into the business it is getting harder to satisfy demand," concluded Turner "But Maxoptra helps us deliver; using Maxoptra we meet, and often exceed, our customers' expectations."
"The fantastic support, ease of use and open API meant that we were up and running with the software the same day we signed the contract and each time we change our working practices Maxoptra adapts with us," he concluded.