MaxOptra Software Diagnosis Service Improvements For Snap-On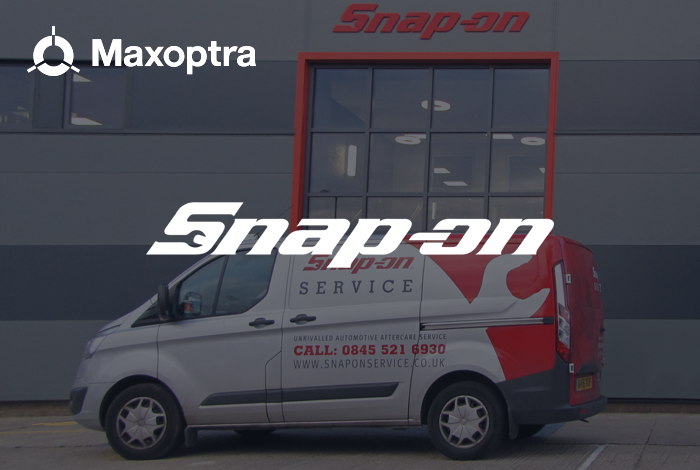 Snap-on has transformed its field maintenance service with Maxoptra real-time scheduling and routing software. Integrated with TomTom telematics provided by Fleetsense, Maxoptra provides Snap-on Diagnostics & Equipment, a division of the company that revolutionised the tool industry nearly 100 years ago, with an end-to-end service management solution.
The dynamic service management software is helping customer service agents plan and communicate around 40,000 visits a year to garages and service workshops across the UK and Ireland. Operating within strict Service Level Agreements, Snap-on engineers install, service, repair and calibrate equipment used for vehicle diagnostics, air conditioning, tyre balancing and MOT and emission testing.
"Before Maxoptra we had little visibility of our mobile operation," commented Dave Gisborne, UK Aftercare Manager at Snap-on Diagnostics & Equipment. "Engineers planned their own schedules and routes and we couldn't tell our customers when an engineer was coming. As a result, the planning of urgent breakdown calls and ad-hoc visits could be time consuming."
Prior to the implementation of Maxoptra, each of Snap-on's forty-one home based engineers would receive their routine call list, via their Mobile Service device, at the start of the week. It was the individual's responsibility to schedule, route and complete around thirty-five jobs and respond, when required, to ad-hoc breakdown requests.
Customer service agents, operating out of a state-of-the-art control centre in King's Lynn, could only access an engineer's current and past locations using the TomTom WEBFLEET solution. This meant that customer queries asking when an engineer would be onsite couldn't be easily answered. The responsive scheduling of urgent breakdown requests could also take multiple calls between the agent, engineer and client.
Using Maxoptra, service agents now have a complete view of each engineer's schedule. They can instantly see where the engineer is, when they arrive on-site and were they are due next. Availability for breakdown calls can assessed remotely based on location and current workload and up to eighty percent of breakdown calls are now allocated an ETA at first point of contact.
"Maxoptra has given us visibility of our most important resource – our engineers!" continued Gisborne. "We have reduced the number of calls required to book or confirm an appointment and we are routinely achieving service level metrics to point of fix, not just first touch, of more than 9 out of 10 across the operation. Our customer feedback for breakdown calls is also averaging more than ninety percent."