Maxoptra Routing and Scheduling Lifts Delivery Service Levels for Rollerdor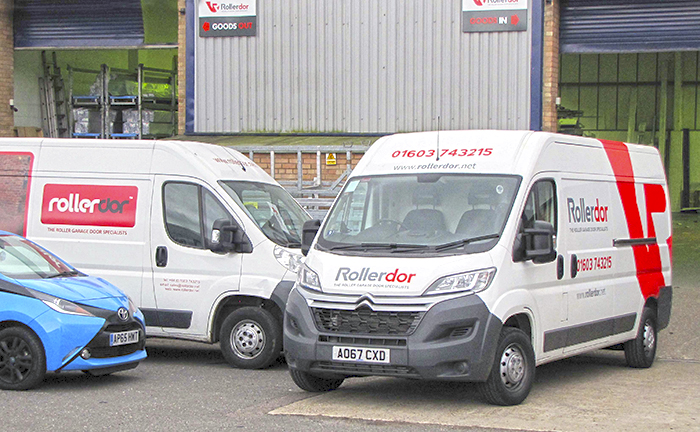 London, 16 November 2017 – Garage door manufacturer, Rollerdor, has implemented Maxoptra dynamic route planning and scheduling software to help with the management of made to measure doors. Operating a nationwide delivery and installation service, Rollerdor has seen significant expansion and expects to deliver in excess of 6,000 custom built doors in 2017. The cloud-based Maxoptra solution has reduced the time spent planning deliveries, maximised the efficiency of deliveries and installations, and improved customer service.
Delivery route planner
"As the business grew, our early system of paper maps and simple route planners struggled to cope. An additional challenge we faced was the customer base expecting – and demanding – accurate delivery times," commented Frank Buckley, Managing Director of Rollerdor. "This combination meant our existing system was no longer fit for purpose."
Rollerdor is a UK based manufacturer, supplier and installer of roller garage doors, recently featured on the Channel 4 TV show 'Double your house for half the money' with Sarah Beeney. Rollerdor operates a fleet of vehicles delivering doors or transporting installation teams across the country and, as all doors are made to measure and delivered directly to the customer's address, a new schedule has to be created every week.
Multi drop route planner UK
Using Maxoptra, orders are output from Rollerdor's CRM in csv format for input to Maxoptra. The delivery schedule is compiled in just a few easy steps, and addresses and routes are automatically communicated directly to drivers' phones. The Maxoptra phone app also allows managers to track the vehicles and deliveries in real time from any Internet enabled device.
"The great advantage of Maxoptra is that we can add, change or cancel orders, live on the system, and then quickly reschedule," continued Buckley. "Since implementing Maxoptra, we have seen a massive reduction in the time spent organising deliveries. What used to take around ten hours a week can now be done in a matter of minutes. We also can make much better use of the available driver hours, and the text messages – letting our customers know we are on are way – have been very well received!"
Best route planner
"I originally liked the fact that Maxoptra was web based and that I could try a demo before committing myself to a contract," concluded Buckley. "In addition, the customer service has been outstanding; always available when required, always able to resolve the issue, and always on hand to advise us how best to achieve our ambition."
For more information on Rollerdor, email sales@rollerdor.net, call 0333 920 237 or visit www.rollerdor.net
ABOUT MAXOPTRA – www.maxoptra.com
Easy to use, affordable and highly customisable, the Maxoptra routing and scheduling system helps companies to do more business with the same resources at a lower operational cost. Having an open API makes it an ideal complement to any telematics, WMS and CRM solution. As a subscription-based SaaS solution, Maxoptra is accessible 24/7 from any web browser worldwide; meaning every new release of functionality is immediately available to subscribers with no additional charge or upgrade cost.
Maxoptra is a division of Magenta Technology.
Magenta's scheduling solutions manage over 10,000 fleet vehicles worldwide every day. Customers include Gist, Avis Car Rental, Snap On, Serviceline, Walkers Transport, Champion Timber and many others.
Magenta Technology, 17c Curzon Street, London, W1J 7TL
www.magenta-technology.com