Maxoptra Quartix Integration Keeps Transport Operations on Track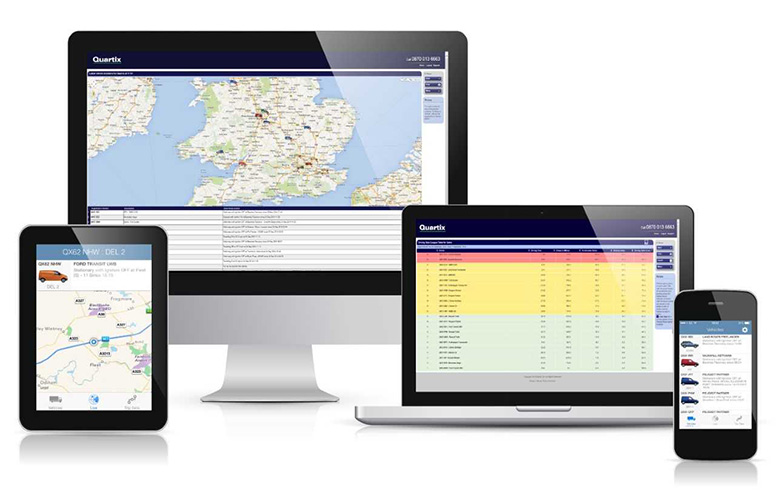 London, 28 February 2018 – Maxoptra has integrated its multi-drop, cloud-based vehicle routing and scheduling software with Quartix real time vehicle tracking. Effective planning of complex schedules combined with advanced ETA notifications already allow Maxoptra users to minimise mileage and achieve greater operational efficiencies. Critical operational intelligence, such as driver performance monitoring, driver timesheet reports, and daily trip reports, provided by Quartix, will allow for even greater savings and improved fleet safety.
Lynne Austin, Quartix Director of Fleet Operations, commented, "We are delighted that Maxoptra, a leading provider of routing and scheduling systems, has partnered with Quartix by integrating our telematics data via QWS, our enterprise-level API. Combining scheduling with real time fleet tracking and reporting provides great operational advantages and cost savings for customers using both Quartix and Maxoptra."
"Having spent 25 years in this industry it has always been clear to me that the combination of better planning and real-time monitoring is the holy grail for any fleet manager," added Stuart Brunger, Maxoptra Business Development Director. "A fully integrated Maxoptra/Quartix solution is an ideal choice for any fleet operator since both Quartix and Maxoptra share a vision of providing affordable, reliable, easy to buy, implement and use solutions which provide exceptional customer value."
Quartix is an award-winning provider of telematics services and vehicle tracking. Real-time tracking combined with driver behaviour monitoring, timesheet reports showing start and finish times, time on-site, average and maximum speed, all accessible through easy to use web-based dashboards, makes Quartix the telematics provider of choice for more than 10,000 customers across all sectors in the UK.
A Software-as-a-Service solution (SaaS), Maxoptra is used by some of the largest fleets in the UK and Europe. However, Maxoptra appeals to all fleet operators as it is easy to use, robust, flexible and well supported. Maxoptra is easy to integrate with existing back office systems and processes, in vehicle telematics, such as Quartix, and customer service solutions and – being cloud based – is accessible from any Internet enabled device.
CONTACTS
ABOUT MAXOPTRA – www.maxoptra.com
Easy to use, affordable and highly customisable, the Maxoptra routing and scheduling system helps companies to do more business with the same resources at a lower operational cost. Having an open API makes it an ideal complement to any telematics, WMS and CRM solution. As a subscription-based SaaS solution, Maxoptra is accessible 24/7 from any web browser worldwide; meaning every new release of functionality is immediately available to subscribers with no additional charge or upgrade cost.
Maxoptra is a division of Magenta Technology.
Magenta's scheduling solutions manage over 10,000 fleet vehicles worldwide every day. Customers include Gist, Avis Car Rental, Snap On, Serviceline, Walkers Transport, Champion Timber and many others.
Magenta Technology, 17c Curzon Street, London, W1J 7TL
www.magenta-technology.com