Maxoptra helps Hannah Foods improve its customer service experience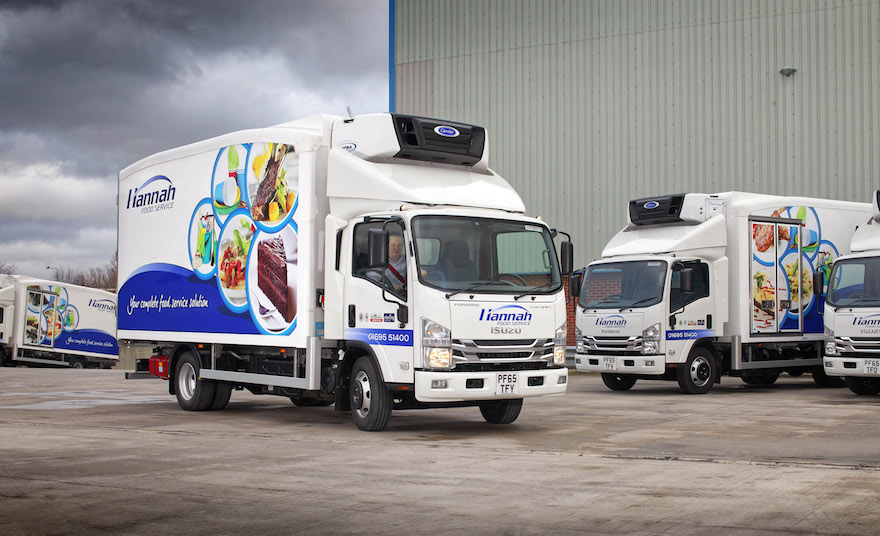 London, 06 December 2016 – Hannah Foods, the family run food service specialist, is investing in route optimisation software from Maxoptra. The cloud based route planning system will help the team at Hannah Foods to continue to deliver exceptional customer service – something the company takes very seriously. Real time dynamic scheduling and planned versus actual tracking functionality played a big part in the selection of Maxoptra Distribution, which will now be used to plan the fleet of 19 vehicles making more than 100,000 temperature controlled deliveries a year.
Route planner UK
"Focusing strongly on customer service, we have built up an enviable reputation as a reliable and responsive supplier, with a wide range of products on offer and knowledgeable and friendly staff," commented Gary Hannah, Director of Hannah Foods. "However, if we fail to deliver what the customer has ordered, when they have ordered it, then we are failing in our customer service promise. This is why it was so important for us to select the right software supplier for our business."
Hannah Foods is also hoping the investment in Maxoptra Distribution will facilitate future business growth. Operating a nationwide service with strict contractual obligations, Hannah Foods hopes the use of Maxoptra will realise operational efficiencies, reduce mileage and provide additional control of costs. The Maxoptra Distribution solution will integrate with the company's TomTom vehicle telematics solution, supplied by G-Force Communications, and the CRM solution from SAP.
Logistics planning
"Maxoptra will allow us to efficiently plan our daily delivery schedules, automatically taking into account the specific requirements of our customers and the transit specifications of the goods they have ordered. Using Maxoptra, we will improve fleet utilisation, which in turn will help us reduce mileage, control costs, react to changing requirements and provide the building blocks for ongoing expansion of the business," added Gary Hannah.
Established in 1977, Hannah Foods is a family owned business based in Skelmersdale, West Lancashire, which operates a national food service covering a full range of frozen, chilled and ambient products. After a £3 million expansion of the business, Hannah Foods opened new custom premises with integrated cold store and chiller and, as a result, was able to increase stock and range in response to customer demand.
HGV route planner
Hannah Foods runs a 19 strong vehicle fleet, ranging from 3.5 tonne vans through to artic and trailer combinations, with all vehicles specified for multi-temperature distribution. The company also recently added five new 7.5 tonne Isuzu Forwards to its fleet in order to increase the payload of its daily delivery operation.
Stuart Brunger, Head of Business Development at Maxoptra, added, "By providing Hannah Foods with the support needed to enhance the day to day planning of its operation, we can help the company to improve the service it provides and deliver a strong foundation for future business growth."
CONTACTS
ABOUT MAXOPTRA
Easy to use, affordable and highly customisable, the Maxoptra routing and scheduling system helps companies to do more business with the same resources at a lower operational cost. Having an open API makes it an ideal complement to any telematics, WMS and CRM solution. As a subscription-based SaaS solution, Maxoptra is accessible 24/7 from any web browser worldwide; meaning every new release of functionality is immediately available to subscribers with no additional charge or upgrade cost.
Maxoptra is a division of Magenta Technology.
Magenta's scheduling solutions manage over 10,000 fleet vehicles worldwide every day. Customers include Gist, Avis Car Rental, Serviceline, Walkers Transport, Champion Timber and many others.
Magenta Technology, 29 Curzon Street, London, W1J 7TL