Maxoptra Helps Flanagan Flooring Deliver First Class Customer Service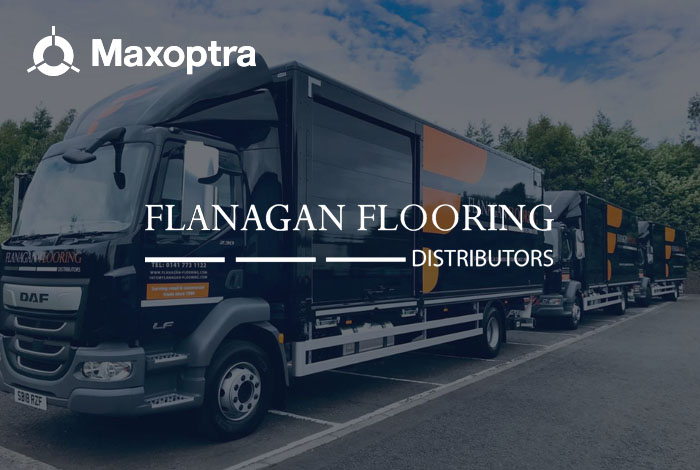 Wholesale distributor Flanagan Flooring is using Maxoptra real-time delivery management and routing software to boost service with improved customer communications.
Using Maxoptra, Flanagan Flooring can produce Estimated Time of Arrivals (ETAs) which are communicated directly to the customer and updated, if necessary, as the delivery schedule unfolds. Flanagan Flooring can also capture Proof of Delivery (POD) evidence including signatures and photographs using the Maxoptra driver app to further enhance the customer experience.
"We strive to provide a first class service to our customers, at all times," commented Michael Flanagan, Managing Director of Flanagan Flooring Distributors. "Our warehouse and depot locations operate a state-of-the-art computer ordering system, our sales and customer support team possesses decades of experience and we have large locally based logistics teams."
"Our fleet completes daily deliveries throughout Northern Ireland, the Republic of Ireland and Scotland and we can also offer a bespoke delivery service," he continued, "Previously, once vehicles were mobile we were almost operating blind."
Since implementing Maxoptra Flanagan Flooring has regained visibility of its delivery operation. Integrated with the back office sales system Maxoptra uses advanced algorithms to produce efficient delivery schedules based on specific customer requirements.
Once the day's activities have been scheduled Maxoptra automatically generates and sends email and text notifications of ETAs to Flanagan Flooring's customers. The Maxoptra driver app provides real time job notification, tracking, live reporting and POD recording, including bar code scanning, signature and photo capture. This allows managers to respond to potential disruptions and keeps Flanagan Flooring's customers informed.
"The ability to keep our customer informed and updated automatically will dramatically decrease the number of delivery enquiry calls we get," continued Flanagan. "This allows our support team to focus on providing advice and support rather than answering simple delivery queries. We are also keen to try some of the other customer service functionality offered by Maxoptra including the self-service website tool and the rate my delivery app."
A family business, supplying flooring products to retail and commercial trade customers, Flanagan Flooring offers a wide selection of products including carpet, vinyl, solid wood and laminate flooring, as well as a comprehensive array of flooring accessories.
Flanagan Flooring is headquartered in Northern Ireland with a fleet of over 30 vehicles ranging from Sprinter vans to eighteen tonne trucks. Operating from two large distribution depots, in Saintfield, NI and Glasgow, Flanagan completes more than 1,500 customer deliveries a week.