Maxoptra Helps Ash Logistics Automate Furniture Deliveries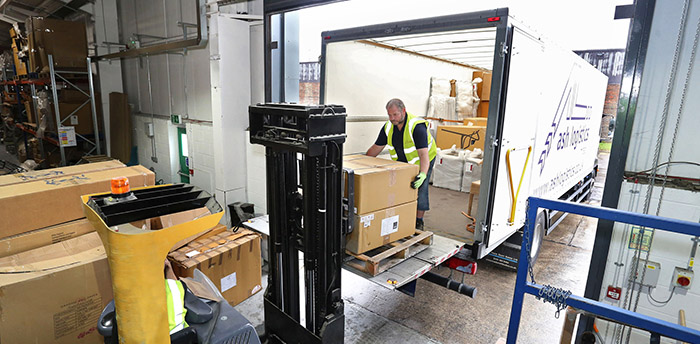 London, 12 October 2017 – Furniture delivery specialist Ash Logistics is using Maxoptra's dynamic route planning and scheduling software to improve the co-ordination and efficiency of its nationwide home delivery service. Transporting prestigious brands such as Graham & Green and Cox & Cox, Ash Logistics offers a 'white glove' delivery service to the whole of mainland UK. Since implementing Maxoptra, the north London based logistics provider has increased its weekly deliveries by nearly 70 percent, and expects this number to double in the busy run up to Christmas.
Driving route planner
"Prior to the implementation of Maxoptra, our delivery planning was manual, which worked but was slow and resource intensive," commented Alan Watson, Logistics and Systems Manager at Ash Logistics. "As one of the founding principles of the company is 'personal yet automated', we explored possible solutions that would help us improve the planning of deliveries whilst retaining the personal service our customers expect."
Using the cloud based multi-drop planning software, Ash Logistics now automatically imports orders from a number of high-end online furniture retailers. Customers are offered a delivery slot – which they can either accept or decline – before the route is planned, taking into account vehicle capacity, drivers' hours and delivery locations. Since implementing Maxoptra, Ash Logistics has already increased its weekly deliveries from 300 to 500, and expects this number to rise to 1,000 in the last quarter of 2017.
Multi drop route planner
"We have been over the moon with the solution and service offered by Maxoptra," continued Watson. "Maxoptra has helped us significantly increase capacity without additional back office resources. This is a real bonus for the business, allowing us to effectively manage seasonal fluctuations, and is paving the way for long term growth. Maxoptra has also helped us maintain the high levels of customer service our users demand."
Delivery route planner
Ash Logistics was established in 2004 with just one vehicle, a strong work ethic and a desire to succeed. Now operating a fleet of up to 60 vehicles across the whole of mainland UK, Ash Logistics provides a range of services, including white glove furniture delivery, event logistics, storage and final furlong delivery. As part of its commitment to excellent customer service, Ash Logistics surveys all customers following delivery and recent feedback includes 'excellent at organising my delivery', 'great communication' and 'felt like you were communicating with real people!!!'
CONTACTS
ABOUT MAXOPTRA – www.maxoptra.com
Easy to use, affordable and highly customisable, the Maxoptra routing and scheduling system helps companies to do more business with the same resources at a lower operational cost. Having an open API makes it an ideal complement to any telematics, WMS and CRM solution. As a subscription-based SaaS solution, Maxoptra is accessible 24/7 from any web browser worldwide; meaning every new release of functionality is immediately available to subscribers with no additional charge or upgrade cost.
Maxoptra is a division of Magenta Technology.
Magenta's scheduling solutions manage over 10,000 fleet vehicles worldwide every day. Customers include Gist, Avis Car Rental, Snap On, Serviceline, Walkers Transport, Champion Timber and many others.
Magenta Technology, 17c Curzon Street, London, W1J 7TL
www.magenta-technology.com