Maxoptra Helps Arthur David Food Go the Extra Mile for Christmas Menus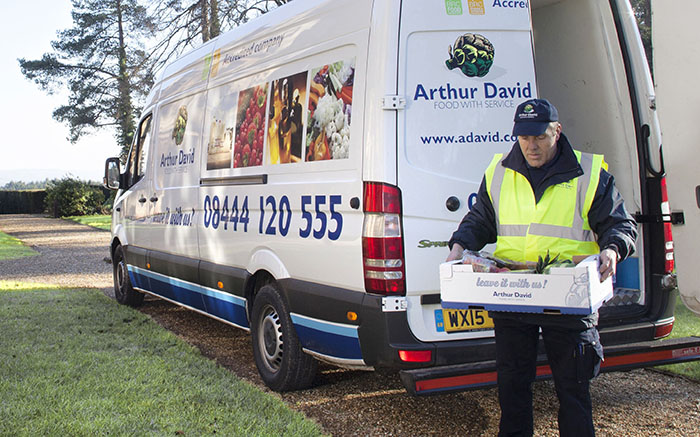 London, 08 November 2017 – Food service specialist Arthur David has turned around its customer service following the implementation of Maxoptra route planning and scheduling software. Since implementing the TomTom telematics integrated software, the distributor of fresh foods has introduced a 'one-call' customer care policy. Giving frontline staff direct access to real time delivery information, accessed in the cloud, they can advise and inform customers at first contact. The advanced route planning solution also supports the company's 'leave it with us' motto, helping to resolve delivery issues on the same day – critical in the busy run up to Christmas.
Route planner multi stop
"We always go the extra mile to achieve and exceed customer expectations, and the festive season is by far our busiest," commented Jon Evans, Managing Director of Arthur David. "But, the customer is hopefully for life, not just for Christmas, so we ensure that they are at the forefront of all the decisions we make."
Since implementing Maxoptra, integrated with in-cab telematics from TomTom, Arthur David has seen a dramatic reduction in the time and resources taken to deal with customer queries. Before Maxoptra, and in the case of a vehicle leaving late or falling behind schedule, the company could receive hundreds of calls in a matter of hours. Each customer call required a call to the transport team, potentially a call to the driver, often resulting in multiple calls per issue.
Route planner multiple stops
"While the improvements for our drivers, transport planners and customer care staff have had a massive impact on our business, the best results have been evidenced by our customers," added Daren Hill, Operations Director at Arthur David, "And, as we all know, if you keep your customers happy, your business will go from strength to strength."
Maxoptra is also helping Arthur David enforce its 'leave it with us' motto whereby the company will move heaven and earth to ensure the customers get their goods, that day, regardless of fault. Using Maxoptra to plan the daily second wave of deliveries has resulted in lower mileage, better driver hours usage and boosted staff morale.
Maxoptra
"Maxoptra gives you the power to drive performance from your logistics," concluded Hill, "and one of the things I like about working with Maxoptra is the exceptional after sales interaction. Every hurdle we have come across, every change we have asked about, has been approached with a 'can-do' attitude and a solution found."
ABOUT MAXOPTRA – www.maxoptra.com
Easy to use, affordable and highly customisable, the Maxoptra routing and scheduling system helps companies to do more business with the same resources at a lower operational cost. Having an open API makes it an ideal complement to any telematics, WMS and CRM solution. As a subscription-based SaaS solution, Maxoptra is accessible 24/7 from any web browser worldwide; meaning every new release of functionality is immediately available to subscribers with no additional charge or upgrade cost.
Maxoptra is a division of Magenta Technology.
Magenta's scheduling solutions manage over 10,000 fleet vehicles worldwide every day. Customers include Gist, Avis Car Rental, Snap On, Serviceline, Walkers Transport, Champion Timber and many others.
Magenta Technology, 17c Curzon Street, London, W1J 7TL
www.magenta-technology.com