Maxoptra Delivery Management Software Steps up to the Event for Classic Crockery Event Hire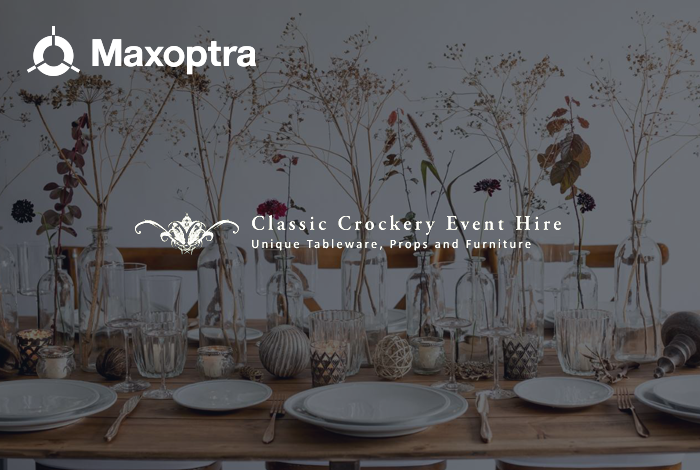 Classic Crockery Event Hire, a boutique event hire company, has achieved significant cost savings following the introduction of Maxoptra real-time delivery management software. The London based company offers a large collection of unique tableware and equipment for all occasions. Using Maxoptra, Classic Crockery has reduced the resource required to plan deliveries and collections, nearly halved the size of its fleet and boosted customer service.
"Maxoptra has had a positive impact on every stage of our operation; from the moment an order is received right through the point where we collect goods when the event is over," commented Daniela Johnston, Managing Director of Classic Crockery. "We have made significant savings in operating costs and reduced the number of vehicles used, despite growing the business, and our drivers are happier and our customer feedback is positive."
Classic Crockery supplies high-end, bespoke china, glassware, props and accessories for events ranging from society weddings to alternative festivals and from royal events to corporate entertainment. Prior to the implementation of Maxoptra, Classic Crockery operated a mainly manual planning process; orders were printed out, pinned to a board for picking and stuck to a vehicle for packing. A member of staff was employed full time in the role of transport planning and the company operated seven vehicles.
Using Maxoptra the process is now fully automated; an open API ensured Maxoptra integrated easily with the company's order software and the planning function has been reduced to around an hour a day. The company now operates a fleet of four custom vehicles, representing a significant reduction in bottom line costs.
Classic Crockery also uses the Maxoptra driver app with integrated mapping and live traffic updates to boost driver efficiency and customer service once on the road. The App allows for real-time updates and notifications between the office, driver and customer, and integrated electronic Proof of Delivery signature and photo capture is proving especially useful.
"Orders can range from a couple of small boxes for an intimate dinner party right through to three vans delivering everything but the kitchen sink to a festival," continued Johnston. "Regardless, our reputation is built not only on what we deliver but how we deliver it. Using the Maxoptra POD features we prove we were at the right place and the right time, with the items as ordered. Potentially more important, we can also prove to customers what equipment was returned and in what state!"