Maxoptra Delivery Management Software Scores Top Marks from Origin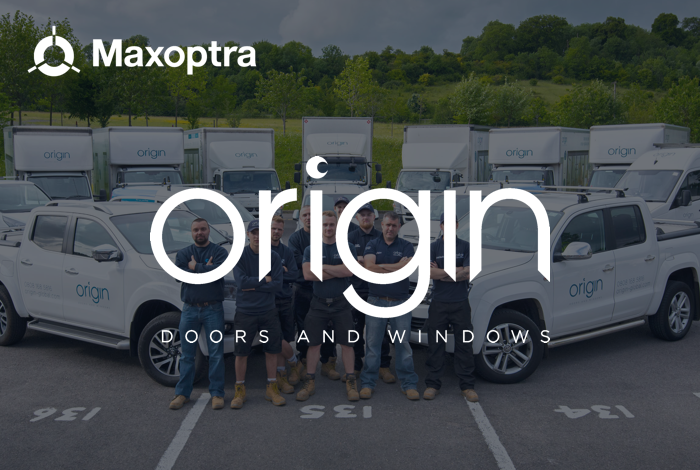 Origin Global, the manufacturer of bespoke aluminium bi-folding doors and windows, is to transform its delivery and service operations by deploying advanced route optimisation, delivery management and customer experience technology. Supplied by Maxoptra, the intelligent cloud-based solution will integrate with Origin's web ordering system and Sage ERP software to provide seamless and real-time visibility from order to delivery.
Origin Global exclusively designs and manufactures windows and doors, to a customer's bespoke specification, at its facility in High Wycombe. A mixed delivery and service fleet, fitted to accommodate bulky goods, completes between 150 and 400 orders a day. A cornerstone of the business, 'on-time-in-full' (OTIF) delivery is paramount for maintaining customer service levels.
"Prior to the implementation of Maxoptra, we operated two separate planning systems for the same fleet," commented Lee Ann Mounter, Director of Special Projects at Origin Global. "Each system had manual routing and there was no visibility between systems which made it difficult to coordinate schedules."
As part of a major project to overhaul its delivery and service operation, Origin undertook a comprehensive review of available solutions including a full functional evaluation of three shortlisted options. Maxoptra scored consistently highly, outperforming all the other software and Origin rated Maxoptra at 98 per cent for technical functionality.
"Maxoptra offered the best functional fit for our requirements," continued Mounter. "The team presented the software features very well and showed a thorough understanding of our business."
"A cloud-based solution with an open API, Maxoptra integrates directly and easily with our existing systems, giving us seamless and real-time data transfer and end-to-end visibility from point of order to delivery, " she continued.
"The team at Maxoptra has been caring, professional and knowledgeable from day one. They have worked alongside our Logistics Team to ensure the project was delivered on-time and have helped us deliver our primary objectives."
In addition to supporting Origin's OTIF objective and boosting customer service levels, it is hoped the use of Maxoptra will also realise a reduction in delivery costs with reduced mileage and less reliance on hired vehicles and drivers. The company is also keen to minimise the impact of its mobile operation on the environment.
"The vast experience of the support and delivery team has been instrumental in us transitioning smoothly to the new system and I am confident we will continue to realise additional savings and benefits as we move forward with Maxoptra," Mounter concluded.