MaxOptra and OGL team up to reduce Midshires Electrical planning time by 50%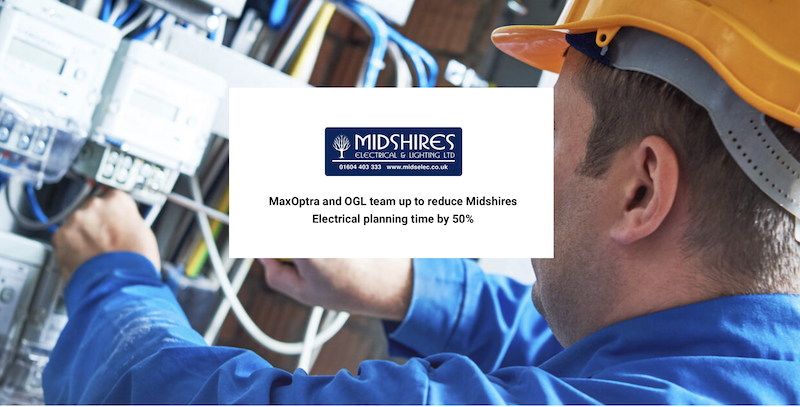 About Midshires Electrical & Lighting Ltd
Midshires Electrical were established in 2003 as an independent electrical wholesaler that specialises in high-quality electrical lighting products, specifically to trade customers.
They boast over 150 years of combined experience, with a sales team that are renowned for their knowledge and hospitality.
Their goal is to provide the best possible customer service and highest quality electrical products to their customers, based all over the UK.
The challenge
Midshires were originally using software supplier, Intact, to manage a wide range of their data, including customer, product, and financial.
However, due to rapid growth, it became obvious that Midshires would soon outgrow Intact. Instead, they required a more flexible, scalable, and long-term solution to meet their needs.
At this stage, Midshires turned to MaxOptra partner, OGL, who specialise in digitally transforming organisations to drive productivity and success through their ERP Software, Managed IT Services, and Cyber Security Software and Solutions. Midshires chose to expand with OGL so they could integrate with new technology and push their business forward.
"We looked at other software providers but they each had their drawbacks. With its own in-house development team, OGL Software offered us everything that we wanted and more."
– Midshires Operations Manager
However, Midshires were also aware of other challenges they needed to tackle. In particular, route planning.
Their process for planning routes was very manual. It was taking them up to an hour to plan, which proved to be both time and resource-intensive.
Fortunately, OGL knew that MaxOptra's industry-leading route optimisation software would be able to support Midshires and make a significant impact on their processes. So they didn't hesitate to put Midshires and MaxOptra in touch.
The solution
After implementing MaxOptra, Midshires soon realised the opportunities available to them.
Efficiency
Instead of taking an hour to plan routes, it now takes a mere 10-20 minutes, and in some cases much less.  
"Our MaxOptra integration has easily cut down our route planning time by 50%. What could take up to an hour now takes as little as 30 seconds."
Midshires is able to be far more efficient, with the MaxOptra system choosing the best possible route for them. Which in most cases means their vans are now back at the depot earlier than ever.
"You can go from point A to point B in the most efficient way possible now. Crazy when you look back at what we used to do…"
Going digital
As well as time-saving, Midshires are benefiting from now having a digital system that does the hard work for them. They no longer rely on paperwork for customers to sign. Instead, they can utilise electronic signatures and proof of delivery, including photos of where parcels have been left.
All of this information feeds back into the OGL software seamlessly, helping Midshires to gain a 360 view of activity.
"MaxOptra allows us to easily see real-time information of deliveries within OGL software, giving departments full visibility of how each vehicle is performing."
Communication
Keeping their customers happy is a priority for Midshires. And MaxOptra's communication functionality has enabled them to achieve exactly that.
Using MaxOptra's advance email SMS updates, they can keep their customers up to date on where their delivery in, and when it should arrive.
Previously, Midshires would receive multiple calls per day from customers enquiring where their deliveries are. Which further used up precious time and resource. Now, customers receive an SMS message with a 2 hour time window, so they know when they need to be available
The future for Midshires Electrical
Now that Midshires have an effective ERP and route optimisation system in place, they plan to not only grow their business but also continue to improve on the customer experience that they are so well-known for.
"Ultimately we want to increase our profitability as a business. Prior to Brexit and Covid our biggest ever year was 12 million. We have an aim to reach a £15m turnover in the next 3 or 4 years and we're confident with the right software in place we can reach that goal. Money aside, we always try to be the best at what we do for our customers. We want to continue to offer as many additional services as we can to our customers which ultimately improves the service they can provide their customers with."