J G Pest Control Takes Control with Maxoptra Dynamic Scheduling Software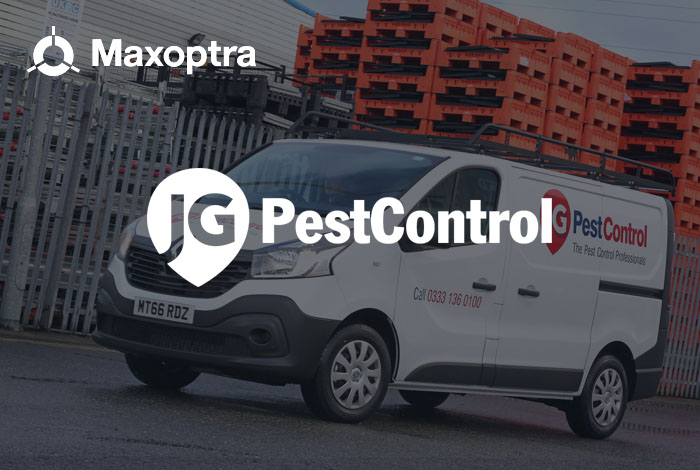 A real-time dynamic delivery management and routing solution from Maxoptra is helping one of the UKs leading providers of pest control services take charge of its mobile operations; reducing costs and improving customer service. J G Pest Control is using the cloud-based system with GPS tracking and mobile app to co-ordinate and respond to around 9,000 incidents a month. Using Maxoptra, J G Pest Control has greater visibility of its field technicians and can respond, in real time, to rapidly changing service demands.
Field service management software
J G Pest Control services thousands of households and commercial clients, including well-known brands such as Tesco, McDonalds and Holiday Inn, offering a range of services from bed bug eradication to rodent extermination. Operating a nationwide fleet of around 60 technicians, J G Pest Control provides routine service visits and emergency call outs for the whole of mainland UK.
"Many of our customers come to us having tried both the one man bands and the huge corporates," commented James Gale, Managing Director of J G Pest Control. "As a successful, family run business we pride ourselves on being big enough to deliver yet small enough to care – in fact just like Maxoptra!"
Route optimiser
J G Pest Control began its transition from manual scheduling and route planning through an intermediary solution before selecting Maxoptra. Integrated with the company's Customer Relationship Management (CRM) solution, Maxoptra is used to manage J G Pest Control's entire road based operation. While a proportion of each days schedule is pre-planned the majority of jobs are emergency call outs resulting in constant changes including last minute adjustments, cancellations and new business.
Using Maxoptra J G Pest Control can allocate a technician to a specific job based not only their location and availability but also taking into consideration other factors such as skill set and existing schedules. A cloud-based SaaS scheduling platform, Maxoptra builds complex service schedules in a matter of minutes and is already having a positive impact on the business. A feature rich mobile app ensures the real time flow of business-critical information, including adjustments to the planned schedule, job completion reports, including photographs and customer signatures, and automatic ETA notifications.
Multi drop route planner
"Using Maxoptra we have much better control of our mobile operations," continued Gale. "We are making better use of our resources, with less time spent travelling, and we are reducing costs. We also have greater visibility and can communicate arrival times, job sheets and other paperwork, automatically between the technician, customer and office."