The importance of daily walkaround checks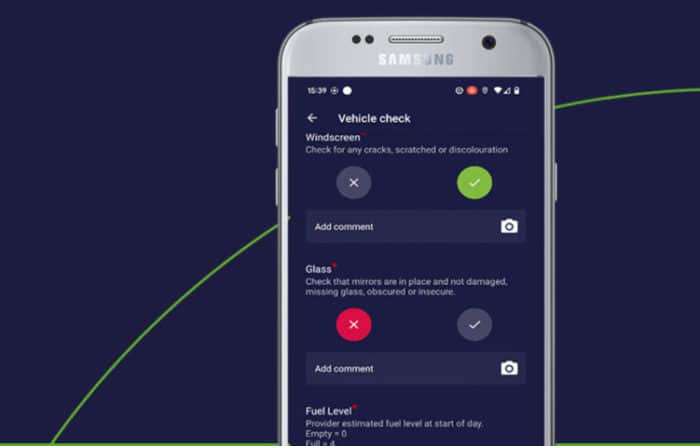 It's estimated that 85% of roadworthy infringements could be avoided if drivers performed walkaround checks before their journey.
Fortunately, drivers don't need to have in-depth mechanical knowledge or expertise to be able to perform walkaround checks. With the help of features and functionality, such as MaxOptra Vehicle Checks, drivers can be guided through the process, and results logged in the MaxOptra system.
Daily walkaround checks are something most Transport Managers and Drivers are familiar with. In fact, they are recommended by the DVSA to be carried by the driver or responsible person before the first drive of the vehicle on the road each day, ensuring that the vehicles are roadworthy and safe to drive.
The DVSA also state that there must be a system of reporting and recording the defects and include how they are rectified. This is why it is essential that businesses use the correct technology to maintain DVSA standards.
What are walkaround checks?
Walkaround checks are the process of identifying defects in a vehicle which could endanger the driver, passenger, pedestrians, and other road users.
Often, these defects include issues such as steering faults, tyre pressure, damaged headlights, and other issues which could result in the vehicle not operating as it should.
MaxOptra Vehicle Checks
Vehicle Checks is available through the MaxOptra driver app, which digitises start of day safety and compliance checks. Ensuring drivers complete these essential checks before their first run.
With varying business needs and a wide range of vehicles, businesses can set their own requirements via the user-friendly Vehicle Checks form builder, ensuring it is specific to each individual business.
Vehicle Checks reports, photos, and comments are then all available in one, easily accessible place. Providing instant access to completed Vehicle Checks and defect records.
Benefits of MaxOptra Vehicle Checks 
Ease of use
Vehicle Checks are built into our Driver App and can be a standardised step for all drivers. Start of day checks will be mandatory for drivers to complete in order to start their first run.
Time-saving
By using our digital process businesses can save time on daily administration, such as gathering paper reports and images from multiple sources.  
Defect reporting
Defects are reported instantly and can be addressed faster, ensuring fleets are meeting safety and compliance standards.
Centralised place
Businesses can capture additional information regarding defects with photos and comments, and store them in one centralised, accessible place. 
Environmentally friendly
By using the MaxOptra Driver App, this entirely digital process replaces paper-based start of day checks. Much friendlier to the environment and supporting green credentials!
Get in touch to find out more about MaxOptra Vehicle Checks