How To Keep Your Customers Happy With MaxOptra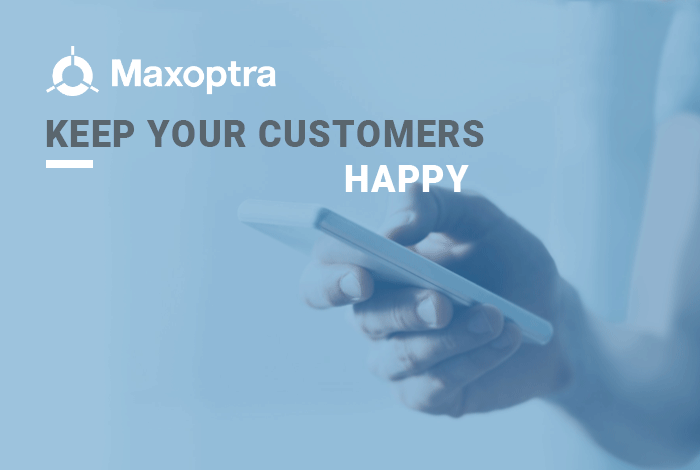 In the age of immediacy, both B2C and B2B customers have increasingly high expectations when it comes to delivery.
Next Day Delivery is now the norm, and Same Day Delivery isn't far behind.
In fact, 87% of consumers count the "delivery experience" as a key factor in deciding whether to make a repeat purchase.
This means that businesses are now faced with the challenge of providing their customers with super-fast low-cost delivery, frequent notifications and an immediate response to queries.
So how can businesses go about tackling his challenge?
Optimise a fast delivery service
Customer expectation is high when it comes to speed of delivery. With MaxOptra you can create low cost, optimised route plans in a matter of minutes through automated planning.
Our plans automatically take into account time window and vehicle access constraints, meaning that our routes are both optimised and realistic.
Offer convenient, accurate delivery slots
Customers love to be offered convenient delivery time slots, however they also expect these slots to be accurate and for their delivery to be made on time.
MaxOptra will automatically plan the most accurate, efficient and low cost routes for you in a matter of seconds. This enables you to offer specific delivery times to your customers whilst remaining confident that you aren't over-promising.
Manage unforeseen changes or issues with ease
Even the most solid plans can change on the day of delivery. How you handle these changes is paramount to customer satisfaction.
With MaxOptra, changes to a delivery time slot can be handled with ease, even if your vehicle has left the depot. Make changes to a live route, assess the potential impact and work with the customer to make an informed decision. Drivers are even automatically updated via our Driver App or third party device.
Keep your customers informed
Keeping your customers in the loop, as to current delivery location and time of arrival, is becoming increasingly essential.
With MaxOptra you can proactively send out advanced email and SMS ETA notifications to regularly keep your customers informed. Customers can also keep themselves updated via your own Website Widget.
For added peace of mind for both you and your customer, our ePod app allows drivers to log proof of delivery signatures and photos and comments.
Gain invaluable feedback
64% of buyers will hold the retailer accountable for any issues, even if the delivery was carried out by a third party. This has forced many businesses to pay increased attention to review sites such as TrustPilot and Feefo.
MaxOptra's "Rate my Delivery" functionality offers your customers an official outlet to provide you with feedback; enabling you to measure customer happiness, address any issues and also identify your top performing drivers.
There are certainly a lot of changes happening in both B2C and B2B retail, ecommerce and delivery in general. However by implementing just a handful of new features, functionality and processes, your business will not only keep up with this evolving industry, but excel in it.
If you would to talk about these challenges in more detail, get in touch with one of our experts.