How brands are saving money and resource with route optimisation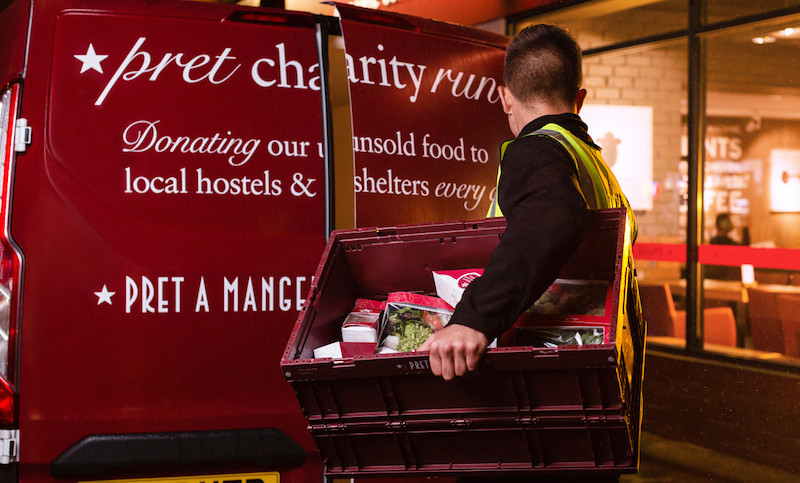 Saving money and resource is a key goal for many businesses. However, reliance on legacy systems, driver knowledge, and paper-based solutions often holds businesses back in making those all important savings.
Like many brands, our customers quickly see the cost and resource saving benefits that route optimisation can bring to businesses; from planning through to keeping customers happy.
In fact, MaxOptra has been proven to reduce operational costs by up to 20%!
Read on to find out how some of our customers are making savings in both money and resource:
Pret run charity the Pret Foundation collects surplus and unsold food, which would otherwise go to waste, and delivers it to charities and community groups across the UK. In London, the Pret Foundation operates its own fleet of vehicles collecting from around 200 stores, 365 days- a-year, delivering to more than 20 frontline organisations.
Before implementing MaxOptra, daily collection, delivery schedules and routes were created using a combination of local knowledge, prior experience and online mapping tools. However since using the advanced route planning algorithms within MaxOptra, the Pret Foundation has been able to support an increase in the number of stores it makes daily collections from and has added another 23 charitable organisations to its delivery schedule. These increases in capacity have been achieved using exactly the same mobile resource.
"Put simply MaxOptra allows us to do more," commented Juanita Cracchiolo, UK Pret Foundation Manager. "We have the same number of vehicles, the same number of drivers, yet we are able to feed an additional 1,000 people each and every day."
MaxOptra also gives fleet managers at Pret the ability to balance driver and vehicle use, control emissions and costs and, with integration with in-cab tracking and dash cams, improve health and safety monitoring.
Classic Crockery Event Hire, a boutique event hire company, has achieved significant cost savings following the introduction of MaxOptra. The London based company offers a large collection of unique tableware and equipment for all occasions. Using MaxOptra, Classic Crockery has reduced the resource required to plan deliveries and collections, nearly halved the size of its fleet and boosted customer service.
"MaxOptra has had a positive impact on every stage of our operation; from the moment an order is received right through the point where we collect goods when the event is over," commented Daniela Johnston, Managing Director of Classic Crockery. "We have made significant savings in operating costs and reduced the number of vehicles used, despite growing the business, and our drivers are happier and our customer feedback is positive."
Classic Crockery supplies high-end, bespoke china, glassware, props and accessories for events ranging from society weddings to alternative festivals and from royal events to corporate entertainment. Prior to the implementation of MaxOptra, Classic Crockery operated a mainly manual planning process; orders were printed out, pinned to a board for picking and stuck to a vehicle for packing. A member of staff was employed full time in the role of transport planning and the company operated seven vehicles.
Using MaxOptra the process is now fully automated; an open API ensured MaxOptra integrated easily with the company's order software and the planning function has been reduced to around an hour a day. The company now operates a fleet of four custom vehicles, representing a significant reduction in bottom line costs.
The UK's number one fitted bedroom manufacturer, Sharps, is using MaxOptra to support a nationwide team of installers with the rapid manufacture, dispatch and delivery of any missing or replacement components.
In the first 6 months after introducing MaxOptra, Sharps saved more than 300 man hours, improved driver efficiency, reduced costs and improved visibility and service and is now able to offer a next day delivery and manufacturing service to its team of experienced installers.
"We have a fleet of eight vehicles based at our West Midlands production facility, which services nearly four hundred installers operating at customers' homes nationwide," commented Andy Turner, National Installer Support Manager at Sharps Bedrooms. "Our bespoke fitted furniture is cut and built by our installers whilst onsite at a customer's property, ensuring it is installed to precisely fit the unique contours of the customer's room. Due to this process, it is possible that our installers need to request additional parts or equipment. Time is of the essence when we are onsite, as we obviously want to minimise any disruption to our customers, so it is vital that we are able to respond as quickly as possible, ensuring our installers have everything they need."
Prior to the implementation of MaxOptra, requests were manually processed using an online route planner, a process that could take up to three hours every day. Since implementing MaxOptra, this process has been fully automated with driver routes, schedules and manifests produced at the click of a button in a matter of minutes. Armed with optimised routes, drivers are more efficient and productive, and – with the MaxOptra driver app – compliance with driving regulations can be monitored.
Japanese food specialist Atari-Ya is reaping the rewards following the implementation of MaxOptra. The London based wholesaler, supplies some of London's finest restaurants including Gordon Ramsey's Maze, Umu and Araki. Using MaxOptra, Atari-Ya has streamlined workflows, improved driver utilisation and reduced operating costs. The company is also boosting customer service with automatically generated and updated ETA notifications.
"MaxOptra has transformed the business by helping us to work smarter," commented Dean Miller, Transport and Logistics consultant at Atari-Ya. "Rather than do what we have always done MaxOptra has shown us new ways of doing things, challenging some preconceived ideas, and, as our use and understanding of MaxOptra grows, I am confident we will achieve further savings and service improvements."
Atari-Ya operates around the clock to secure, process and deliver the highest quality fish and seafood and currently runs a fleet of 15 Mercedes Sprinter vans from its Wembley headquarters. Operating in and around London, Atari-Ya makes around 160 deliveries a day to its client base of restaurants, Sushi bars and Japanese food outlets.
Prior to the implementation of MaxOptra the process of receiving orders, transposing sales into deliverables, producing delivery manifests and invoices was complex. It involved phone calls, faxes and emails, resulted in multiple sets of paperwork, and often included differences between amounts ordered and delivered.
Using MaxOptra Atari-Ya has seen a reduction in the resource required to plan each day's deliveries. The company has also achieved a parity of workload between drivers, easier inductions for new drivers and tangible savings in time and therefore costs. Workflows, from point of order to delivery fulfilment and invoicing, have improved, with less reliance on paperwork, which has improved cash flow and customer feedback.
If you would like to learn more about how our world-leading software can help you save costs, then get in touch for a chat with one of our experts.