Ho, Ho, Bloomin' Ho!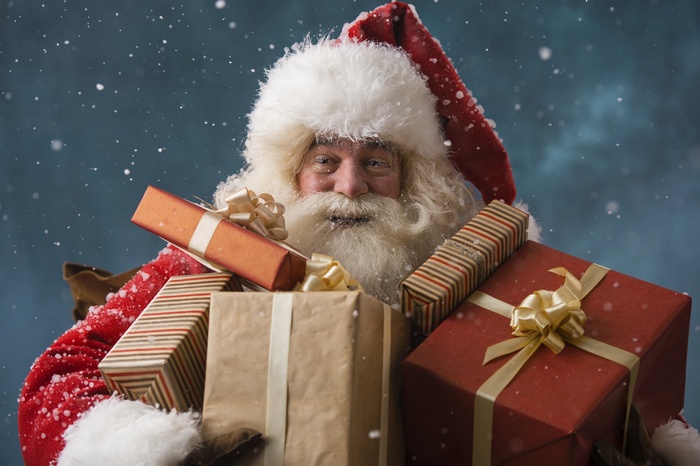 As overheard, muttered by a not very cheery fellow wearing a red coat and sporting a white beard in Heston Services …….
"'Tis the season to be jolly? Pah! Not when you have over 3 billion homes to visit and 12 billion presents to deliver all in the course of one flippin' evening it isn't!! Does anyone actually appreciate what a logistical nightmare this is – and all by myself! It's alright for you lot sitting at home, singing your carols and pouring yourself another drink, but you try doing my job sometime and see how much you bloomin' well like it.
Just look at the problems I have to handle! I'm on my way to the next chimney when a 747 appears on my route, so I have to divert around it and have to find my way again. And you try finding some of these places in the middle of bloomin' nowhere! Then I get behind my schedule 'cos all these mince pies that people leave out for me, just have to be eaten. Hey, a man like me needs to eat you know! Have to keep my energy levels up, don't I?
Then to cap it all one of my bloomin' reindeer twists an antler, so he's out of action for the rest of the evening! Prancer! Let me tell you something, he won't be doing any more prancing for a bloomin' while! And all of this slows me down and puts me more and more behind my schedule that Mrs Claus made for me before I left and she spends months and months on that and then it all goes to pot after a few minutes! It's alright for her sat back at home in the North Pole – she doesn't understand that stuff like this always happens to me. And all these people expect their presents to be there when they wake up in the morning. They expect it all on time and Mrs Claus doesn't take kindly to missed service levels let me tell you!
So Merry bloomin' Christmas. I need some help so I can bloomin' well enjoy it myself!!"
Fortunately for Santa, the help he needs is on the way. Magenta and their busy little elves have developed a rather clever software program called Maxoptra. Not only is it designed to plan your schedule in just a few minutes (which we're sure Mrs Claus will be grateful for) but it also reacts to real time events like broken down reindeer and readjusts your schedule automatically. It also lets your customers know when they can expect their deliveries to be made and send them messages if the times change.
So Santa here's our present to you – Maxoptra – which we hope will make your life a little easier next year. Oh – it's also ideal for fleets of distribution vehicles or service engineers to use all year round – handy that. Maxoptra:
Builds the most efficient routes – calculating ETAs, considering traffic (747's) and time windows;
Manages driving times – by continually monitoring and comparing actual driving times against those scheduled, to identify any deviation or twisted antler and re-calculating ETA's for all remaining orders, as necessary;
Enables clear communication – detailed information on each order is sent to Santa's mobile device so he can view it when not "up, up and awaying"
Monitors work progress – the elves can update the job status with the help of the mobile app;
Keeps customers informed – ETA notifications are automatically sent to customers, as required, if there is any mince-pie delay.
With Maxoptra's dynamic scheduling, incorporating satellite navigation and live traffic data, Santa can at last have had a straightforward, satisfying night taking full advantage of all the offered treats – without the threat of job overruns or added stress.
So, with help at hand, at last it can be a Merry Christmas to you Santa!
Want an easier work experience? Contact us and we will show you how Maxoptra can help.