How businesses can save as fuel prices continue to rise
Fuel prices within the UK has risen to a new record, with the average cost of petrol rising to 189.33 pence a litre, pushing the cost of filling the average 55-litre family car above £104 ($127.40), according to the RAC motoring organisation. 
Additionally, Diesel climbed to 197.11 pence a litre, another new high.
Experts are stating that whilst these numbers may seem to have peaked, diesel is actually on course to move closer to £2 a litre.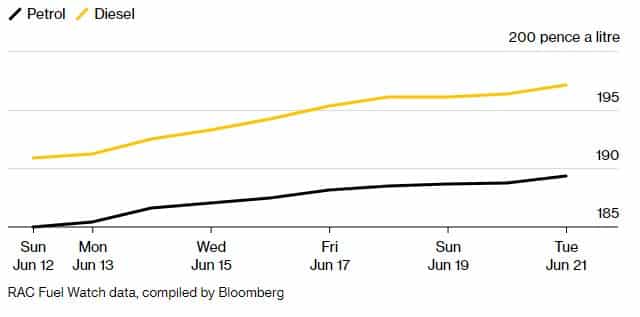 Source: Bloomberg
This increase in pricing is causing many, personally and professionally, to feel the financial pinch.
Whilst many families are rethinking their holiday plans, increasingly working from home, or simply trying to make do with fewer trips to the shops, businesses are also facing repercussions.
The cost of delivery is increasingly becoming problematic for businesses. With many consumers opting to shop online, and expecting a fast and seamless delivery experience, businesses are struggling to balance costs and customer service. 
At MaxOptra, we are experts in reducing delivery costs. It's something we speak about every single day, to customers new, old, and potential. 
So, here are our tips to help businesses save on fuel as prices continue to rise:
Reduce miles and vehicles
Whether you run fixed or dynamic routes, if they are not optimised correctly you may not only be wasting fuel, but also hours on unnecessary mileage.
By using route optimisation technology, you can automatically generate the most efficient route sequences which take into account time windows, vehicles, and load capacity.
This dramatically improves the effectiveness of your fleet utilisation, whilst also reducing fuel, mileage, and costs.
In fact, you can reduce your daily mileage by an impressive 20%!
Minimise missed deliveries
UK retailers, their delivery partners and even consumers are losing an enormous collective £1.6 billion a year, due to failed delivery.
Part of these costs is the additional fuel that is needed to redeliver to an address, sometimes even multiple times.
One of the main causes of missed deliveries is a lack of customer communication. Customers aren't aware of when their delivery will be turning up, and therefore cannot make arrangements to be home to receive it.
To resolve this issue, you can use logistics technology which will proactively send out advance email and SMS ETA notifications to keep your customers regularly up to date.
This can include confirmation of delivery date and time, and then regular updates once their delivery driver is out on the road.
This helps customers to be in when their delivery is due. And saves drivers time, miles, and of course fuel.
Move to electric vehicles
The obvious choice for cutting down on fuel is of course to go electric.
After all, electric vehicles are much cheaper to run than their diesel counterparts. During trials, the cost of running some electric vans came in at just £4 per 100km which is minimal compared to refuelling.
We appreciate this is a large undertaking for many businesses. But by working with a company such as MaxOptra, we can model your fleet and tell you exactly how many vehicles you will require if you were to go electric.
Get an education
As well as tactical ways to reduce costs, there are strategic practices that can be embedded into the business for long-term cost savings.
By educating yourself and the wider business on the driving habits that can increase fuel consumption, such as fast acceleration, driving in low gears, and speeding, your employees can support the business whilst saving money and the environment. 
If you'd like to learn more about how you can save on fuel, then get in touch with one of our experts for a chat.